Basketball
10 best Adidas Basketball Shoes in 2022
February 2, 2022
Adidas best basketball shoes have been more fashionable in recent years. Collaborations like Kanye West's Yeezy brand and Beyonce's version on the legendary Superstar sell out in seconds, and the Boost cushioning method has revolutionised performance footwear comfort. So it's no surprise that Adidas is gaining market share and expanding at a faster rate than Nike or any other major footwear brand!
But Adidas is more than just a fashion brand; they also create some of the greatest basketball shoes on the market, and they've signed NBA players like James Harden, Damian Lillard, and Donovan Mitchell to be brand ambassadors.
Here is the list of the best Adidas Basketball Shoes
No.1 Adidas Dame 7
Price: $104
Adidas is only second to Nike in terms of best basketball shoes. However, does this imply that Adidas footwear is inferior to Nike footwear? Certainly not. Take, for example, the Adidas Dame 7. This shoe outperforms not just other Adidas models, but also many Nike models.
Guards should always choose Damian Lillard's trademark sneakers. The Dame 7 isn't one of them. This model is unrivalled in terms of court feel and bounce. This may come at the sacrifice of some impact protection, although guards are normally unconcerned.
The eighth Dame shoe had excellent stability and lockdown. The cushioning in the collar encircled the ankle and heel. When we wore this, there was never any slipping. Because this basketball shoe has such a large foundation, lateral stability was never an issue.
The fact that this shoe may be worn outside adds to its attractiveness. Given the threat posed by COVID-19, most gyms are closed or only open to a restricted number of people. Many of us are compelled to play outdoors, and this shoe makes an excellent companion. It did not disappoint us.
We anticipated the Dame 7 to be expensive since it was a trademark shoe for none other than Damian Lillard. However, this was not the case. The money we spent was well worth it, given its performance and prominence.
Pros
Cushioning that is evenly distributed
Indoors and out, you'll have plenty of traction.
Cons
The materials aren't the best.
No.2 Adidas Harden Vol 3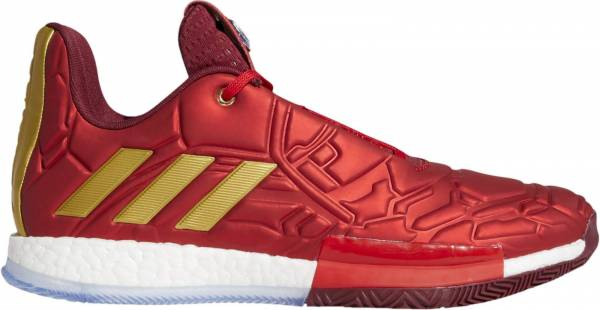 Price: $149.95
The Adidas Harden Vol 3 generated a lot of commotion when it first came out. Players of various skill levels can't get enough of it. The accolades made it sound legendary to us. It was difficult to imagine that such as
First and foremost, we'd want to emphasise the outsole's enchantment. Without a doubt, it had a great grip! What made it stand out even more was that dust didn't appear to adhere to it. Was it due to the nature of the material? Was it the tread pattern that caused the problem? We may never know for sure, but what is important is that it didn't cause us any issues, even on untidy courts.
The tooling on the midsole is particularly noteworthy. It was just wonderful! It makes use of Boost. While Boost is used in many Adidas sneakers, we believe this one is the most well-executed. We aren't shoe designers, therefore we have no idea how things work. All we know is that this configuration gave the court a lot of feel and responsiveness!
This wouldn't be a Harden sneaker if it didn't have the flashiness that the guy is known for. We adore the way it turned out! It would be a shame to pass this one up if you're seeking a performer who's also a charmer.
Pros
Boost cushioning that is well-balanced
Cons
To get rid of heel slip, you'll need to break them in.
No.3 Adidas Marquee Boost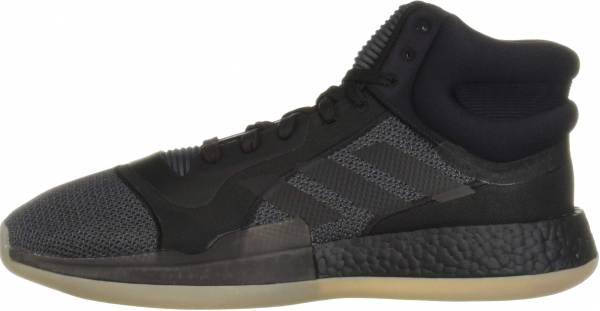 Price: $56.19 – $173.68
Many people consider traction to be the most crucial feature of a basketball shoe. There are individuals like that here with us, and the Adidas Marquee Boost did not disappoint them. We tested hundreds of basketball shoes, and this one instantly stood out since it bit like crazy both inside and outdoors.
Having saying that, the shoe's durability is unquestionable. It can certainly take a pounding. And we're not just talking about the outsole; the upper materials, too, demonstrate an unquestionable toughness. What about wear and tear? They will never be an issue as long as the shoe is utilised properly.
One would imagine that a decent, durable shoe would be weighty by default. Isn't it true that strong things has to gain weight? With the Marquee Boost, this is not the case. We were enamoured with it since it felt so light on our feet. For a little while, we mistook ourselves for wearing super-supportive socks! That was the lightness of it!
We recognise that this shoe has a vintage appearance. Some people may find it unappealing in terms of aesthetics. But, hey, if it works well, which it does, appearance shouldn't be an issue.
Pros
Boost cushioning that is well-balanced
Cons
On sandy courts, traction is a challenge.
No.4 Adidas Harden Stepback 2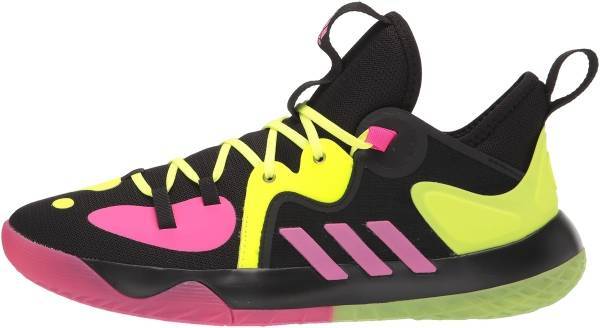 Price: $71.02 – $220.01
James Harden is a consistent performer, but his Adidas signature sneakers seem to be on the decline. For many, Harden Volume 5 has been a letdown. Thankfully, the Adidas Harden Stepback 2 is here to help.
Both the Harden Stepback 2 and the Harden Vol 5 have the same tread pattern on the outsole. The Stepback 2, on the other hand, worked a lot better! It had a much better grip, and the multidirectional coverage was real. When we were playing in this one, traction was not an issue.
Aside from traction, the Stepback 2 has a fairly quality feel, despite being essentially a takedown model. The fabrics are really soft, breathable, and pleasant to the touch. Did Adidas just want to be kind and treat us like kings without asking for extra money?
Those who are concerned about foot lockdown will not be dissatisfied with this. This shoe has an exterior heel counter that aids in preventing slippage. The malleable materials also enabled a one-to-one fit, making the shoe highly supportive despite the lack of a genuine outrigger, in our experience.
All of the positive features of this shoe seem to have made it durable enough for outdoor usage, leaving us with no complaints. Its very coloured look may be a problem, but we'd have to be quite fastidious to say so.
Pros
Excellent fit
For the price, the materials are excellent..
Cons
Impact resistance to the bare minimum
There is some heel slippage
No.5 Adidas Pro Model 2G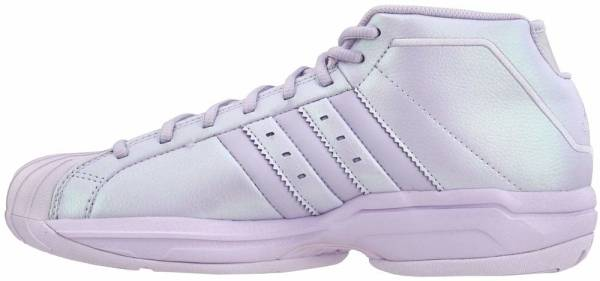 Price: $74.95 – $119.00
Basketball players and fans are strongly devoted to their favourite shoe models, so manufacturers make retros to placate them. Even though the throwback Adidas Pro Model 2G is a major fan favourite, it went above and above to give something fresh. It now has a new cushioning arrangement, which we believe is one of the nicest things to happen to it.
We had no reservations about wearing it all day since the midsole construction was so comfy. Even when we were leaping and landing hard heel strikes on the court, our feet and knees never suffered. Getting this one if you're looking for impact protection isn't a terrible idea.
This Adidas model not only had excellent cushioning, but it also had excellent traction. The squeaking was ridiculous while we were playing in this! Side motions and even abrupt turns were not at all shaky. If you want to stop and go with confidence and accuracy, this is undoubtedly what you need.
The traditional style of this Adidas sneaker may not be to everyone's taste, but we like it. It looks great with any uniform, and the fact that it can also be worn with athletic or casual attire is an added advantage.
Pros
Materials that are very long-lasting
Cushioning that is bouncy and low to the ground
Cons:
Minor slipping of the heels
N0.6 Adidas N3XT L3V3L 2020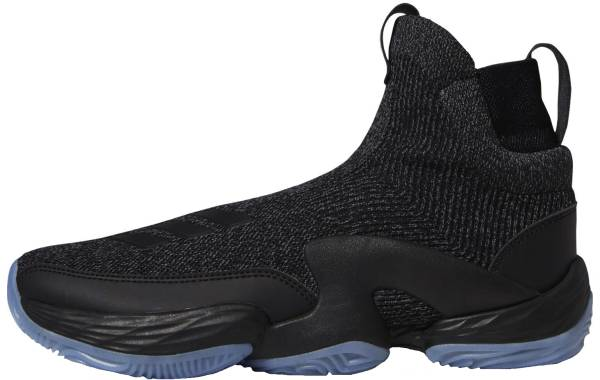 Price: $129.95
The Adidas N3XT L3V3L 2020 really took our game to the next level. We could actually play for hours with this sneaker since it was that comfy. However, this does not imply that the court feels betrayed. The Lighstrike midsole of this shoe provided a sophisticated mix of impact protection and reaction.
The top materials of the shoe also contributed to its overall comfort. We felt like we were wearing socks since they were so soft, light, and breathable. So, what about assistance? Great! It's fantastic! This shoe proves that minimalism and support don't have to be mutually incompatible.
Furthermore, this shoe had a great grip on the court. Whatever position we were in, whatever footwork we were executing, the outsole's bite on the floor was always constant.
You're mistaken if you believe that nice things end here. We can be rather violent when we play, but this bad boy was up to the task. There is no noticeable wear and tear. As a result, we regarded the N3XT L3V3L 2020 as a reliable outdoor game companion.
To be honest, this shoe has no major flaws. It's excellent. Is there anything more we can say?
Pros
The Upper is laceless for comfort.
Cushioning that is both responsive and fluffy
Cons:
When there's a lot of dust, traction declines.
No.7 Adidas Don Issue 2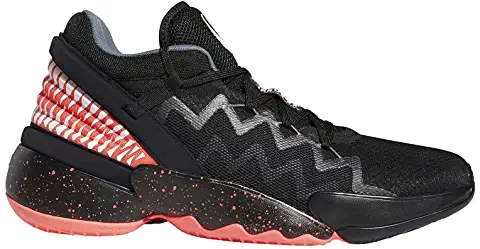 Price: 89.95
The Adidas D.O.N. Issue #2 is a suitable sequel to the D.O.N. #1's popularity, with proven technology and killer aesthetics. The second pair of Donovan Mitchell sneakers successfully accomplishes the following:
Affordability. The second generation of D.O.N. Issues is undoubtedly among the cheapest signature sneakers on the market, with a price tag of $100 per pair.
Comfort: The shoe's flexible Bounce midsole offers enough cushioning, making it suitable for both casual and on-court play.
A comfortable fit: The cord lacing mechanism and materials used to construct the upper of this low-top basketball shoe work together to provide dependable lockdown.
The D.O.N. Isssue 2 is available in a variety of hues, much like other well-known signature basketball shoes like those from LeBron's and Kyrie's respective lines. Here are a few examples:
Spidey-Sense. Because of his dunking talents, Donovan Mitchell was once dubbed "Spida" by his colleagues. Don Mitchell also appeared in a Spiderman movie promotional trailer in 2019. Mitchell's trademark sneakers often have Spiderman-inspired colours, which may be due to this.
Pack of Crayons Adidas and Donovan Mitchell collaborate with Crayola to create a few monochromatic Adidas D.O.N. Issue.
Pros
Extremely helpful
Exceptional cushioning
Cons
Unpredictable traction
hefty and bulky
No.8 Best Adidas Coll3ctiv3 2020 Low Best Basketball Shoes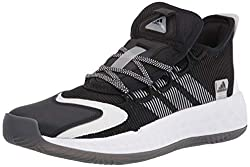 Price: $41.32 – $182.00
The Best Adidas best Basketball Shoes Coll3ctiv3 sneaker is a great option. The shoe provides a pleasant feel and a strong, long-lasting design to keep your feet safe while playing. Both of these amazing characteristics are combined in one of the most attractive styles available today.
It looks and feels fantastic. The ruggedness of the shoe makes it ideal for both indoor and outdoor exercises. Synthetic construction also increases your strength, allowing you to make more powerful manoeuvres or slashes. All players, regardless of position, get access to the premium design.
The shoe, however, lacks the same amount of cushioning as previous versions. The shoe is comfy, although it needs a little impact protection. Expect some bumpy landings. The greatest adidas low top basketball sneakers for 2022 are listed here.
Pros
The Upper is laceless for comfort.
Cushioning that is both responsive and fluffy
Cons:
When there's a lot of dust, traction declines.
No.9 Best Adidas Men's Basketball Shoes: D Rose 11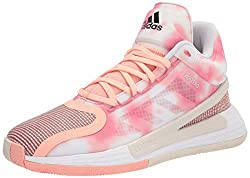 Price: $80.00 – $209.95
The D Rose 11 high-top shoe is designed for court usage but may also be worn on a daily basis. The outstanding design of the sneaker offers a layer of protection to the whole package.
This best Adidas Basketball Shoes are great for preventing injuries. It also has good traction, making it suitable for both indoor and outdoor usage. Because to the sensitive soles, you'll be able to swiftly shift directions.
Regardless, the shoe isn't very secure. The fit is tight, but it won't keep your foot as secure as quality choices. In the long run, there will be some slipping. Always knot it tightly and choose the appropriate size.
Pros
Cushion that is both comfortable and supportive
Excellent traction
Cons:
Unusual style
The materials might be improved.
No.10 Best Adidas Men's Harden Stepback basketball Shoes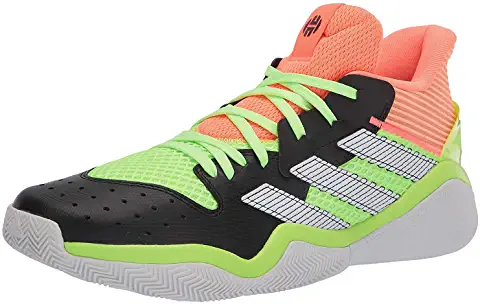 Price: $28.55 – $104.99
The Adidas Harden Stepback is the trademark sneaker of American best basketball star James Harden. It is quite inexpensive, but how does it perform in terms of value? When it comes to performance, Adidas is always at the top. Harden Stepback has the herringbone traction pattern, which performs well on clear courts but takes up a few dust particles on very dirty courts.
The firm and responsive bouncy midsole flex cushion you'll receive for a reasonable price is firm and responsive. It also has impact protection, which is a benefit. Although other users claim that the cushion is Harden Stepback compliant. Even if you have broad feet, the mesh top is very breathable and does not smother your feet. Furthermore, the synthetic material ensures durability and a quick break-in period.
The midfoot is small, while the toe side is broad. It's a true to size fit. The top is made of a solid material that moves with your foot. Even if you make sudden movements while playing, the stability and support are robust, and it will respond quickly. The tiny mesh mouth bites down on your feet, providing exercise and stability.
Overall, for a modest budget, the material, fitness, support, and traction are excellent. It's a reliable performer and a cost-effective model, but it's also the trademark shoe. Furthermore, the materials are sturdy and long-lasting for use on outdoor courts.
Pros
The shoe is quite sturdy and supportive.
Model with a reasonable price tag
Cons:
It collects a lot of dust.