Basketball
10 best basketball shoes for jumping in 2022
January 27, 2022
Is it possible to enhance your elevation by wearing basketball shoes? Which basketball sneakers allow you to leap higher and slam the ball at the rim? This is the kind of issue I'll be addressing in this essay.
Different elements of basketball shoes are important, and I'll be searching for bouncy outsoles and great midsole cushioning. These characteristics will assist you in increasing your height while also providing the necessary cushioning for safe landings.
Things to Look Before Buying Your First Best Basketball Shoes for Jumping.
Outsole is bouncy
A variety of things impact your vertical jump. Genetics has a significant influence since some people are predestined to have highly developed muscle fibres. You may, however, enhance your body's potential with the right information and exercise. Another important component is your age, therefore you must personalise your training to your individual demands. You can drive your leap higher and achieve your objective with a little support from the correct basketball sneakers.
When it comes to basketball shoes, the rubber outsole and its composition must be thoroughly examined. The material's thickness and density will either help or hinder your mobility and agility. I'll inspect each pair of basketball shoes carefully to see which ones will best compliment your abilities to leap higher. Let's take a look at some high-jumping dunkers from the FIBA dunking competition to get a sense of the incredible dunks and the basketball shoes for jumping they wear.
Outsole Thickness
Another element to consider is the impact response of the outsole thickness. Excellent heel to toe transition is a benefit, making the transition from jogging and developing momentum to eventually taking off for maximum elevation much easier. You should also think about the sort of basketball court surface you'll be using. The outsoles of recent basketball shoes from well-known companies are softer and more malleable. On outdoor courts, they may rapidly bottom out, so keep that in mind while making your buy. These shoes, on the other hand, may provide excellent grip on hardwood floors and give your vertical leap a tiny bounce.
When you're moving, the tread pattern on your outsole has a direct influence on your acceleration. As a result, your momentum and ability to optimise your vertical reach improve. In general, we'll be aiming for a typical herringbone pattern. On both the hardwood and the blacktop, however, there are various distinct traction patterns that give strong grip and traction. I'll look into all of your possibilities and narrow down your selections for you.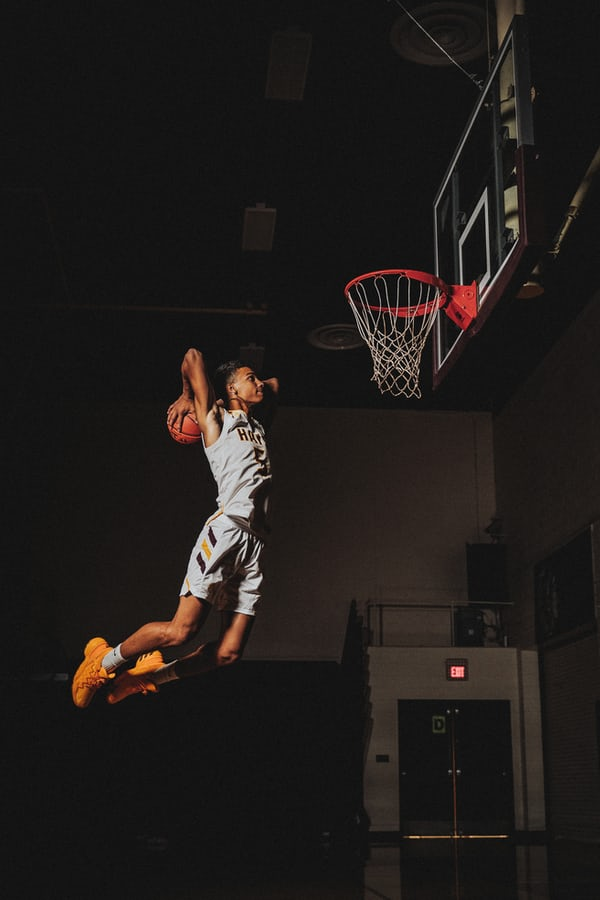 Superior Suspension in Basketball Jumping Shoes
Midsole materials and quality are sometimes overlooked, despite the fact that they provide comfort and peace of mind, allowing you to perform at your best. Basketball shoe for jumping cushioning is substantially improved by materials like EVA (ethylene-vinyl acetate). When compared to thick rubber, this material is lower in weight. Basketball shoes with EVA midsoles are ideal for players who often leap to the basket or attempt to block a shot. This sort of midsole's comfort, when combined with a pair of top-quality basketball socks, will give you with superb balance. This is particularly important in the midst of battle when the ball is constantly jumping and hustling.
Another factor to consider is the durability of the midsole. The material must be soft and hold its shape and form for long periods of time. This is to ensure that it can endure the rigours of heavy pounders and high leapers. I'll look inside the midsole to see what kind of material it is and how it responds to your acceleration and leap.
You may provide support to your ankles by padding them. This decreases the danger of ankle pain from awkward landings, which occur regularly when you leap to your full potential. You shouldn't only think about how high you can leap. It's also a good idea to consider how to land safely. You will be put back in your hoops aspirations if you injure yourself. Recovering from an injury is a long and painful process that may or may not return you to your prior level of performance.
Absorption of Shock in Basketball Jumping shoes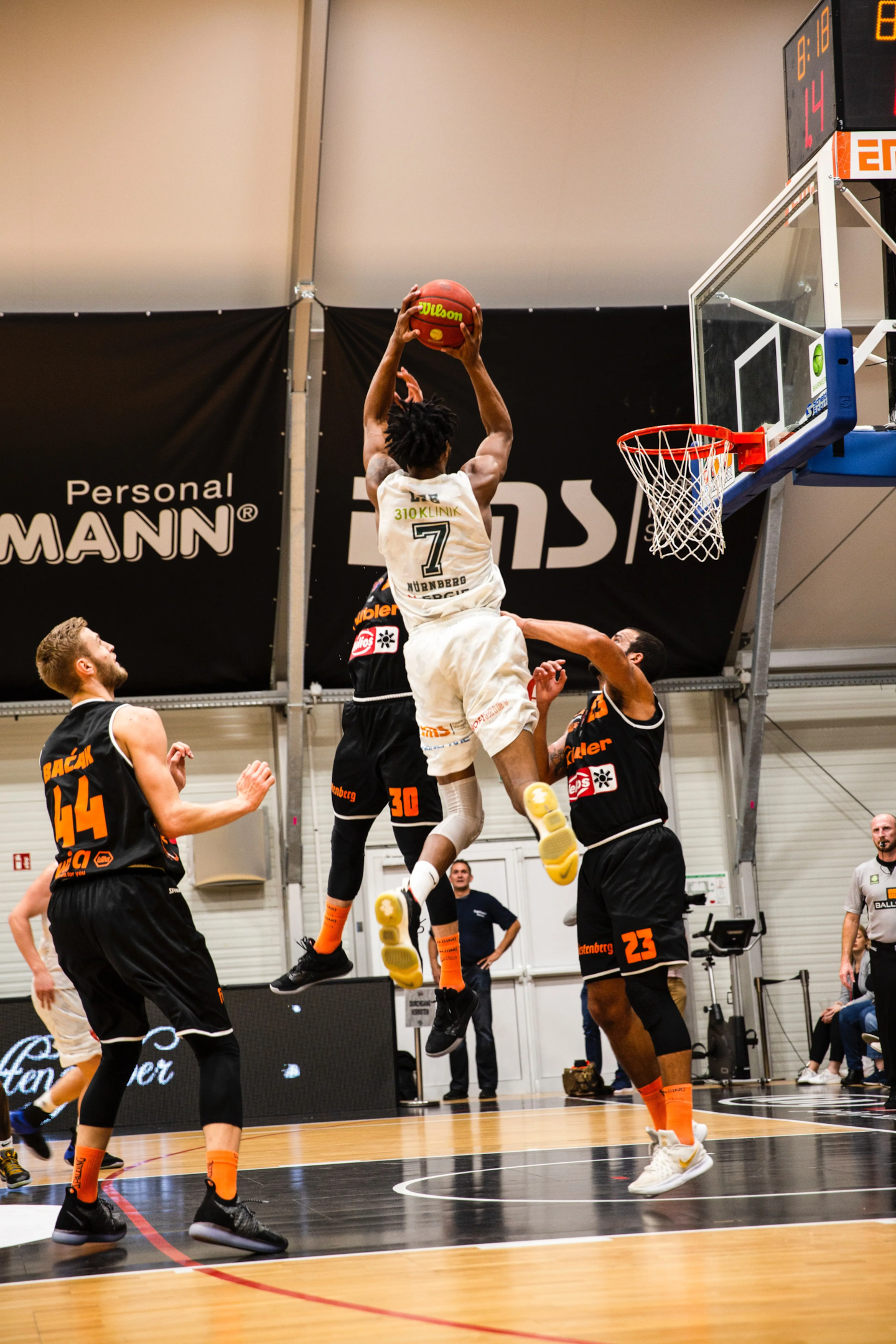 The higher you leap, the more difficult it is to land. Always keep this in mind while selecting a pair of basketball shoes for jumping that can withstand severe landings and provide exceptional shock absorption. The correct degree of impact support and shock absorption may be achieved by combining top quality midsoles, thick rubber outsoles, and a gripping traction pattern.
Midsoles composed of malleable materials are great for returning your heel and toe to a secure posture after grabbing a rebound or slamming the ball hard into the basket. You may add a pair of high-quality basketball insoles to your shoes to improve shock absorption even further. I've published a full assessment on the subject that high jumpers and dunkers will find highly beneficial. If you pick any of the inserts I mentioned in that post, your comfort level during intense times of the game will not be jeopardised. If you wish to use basketball shoes for jumping insoles, you need to measure your shoe size and get a half-size larger.
To aid in traction, balance, and general stability, the shoe's outsole should be composed of high-quality rubber. Basketball players must do this in order to achieve their highest level of performance. In order to estimate the degree of shock absorption that the basketball court surface can sustain on your collision, we must also examine the quantity of rubber that comes into touch with it. I'll look at the basketball shoes' overall design and how each component works together to provide the desired degree of performance and support.
List of Best Basketball Shoes Jumping In 2022
No.1 LeBron XVII Low Nike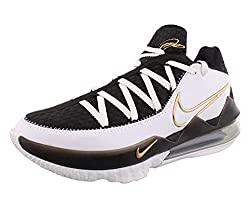 Price: $125.00 – $309.29
Buy Now On Amazon
This pair of Nike LeBron 17 trademark basketball sneakers has an engineered knit material and a low top style. The fit is solid and pleasant. It offers maximum cushioning as well as excellent impact absorption. The Max Air units are located under the heel and offer excellent shock absorption. Because of the Nike React technology applied to the forefoot region, it is very responsive to heavy landings. The soft and comfy cushioning, as well as the seamless transition from heel to toe, will be noticeable.
The midsole's moulded overlay is robust and durable. It adds stability and balance to the ride, reducing the chance of an unpleasant landing. The shoe bootie worn by LeBron 17 is tight but not restricting. Flywire wires pass through loops over the tongue and sides to produce a unique lacing system with asymmetrical laces. This provides you a secure and locked-in feeling that you can alter by pulling them tighter or looser.
For further cushioning, soft foam pods are inserted right under the Max Air units, making leaping fairly pleasant and fun. The increased bounce from the soft and responsive fabrics will be noticeable. The outsole has a distinctive tread pattern that performs well on both hardwood and concrete. Because the grip and traction are great, you may rapidly generate speed to accelerate for your leap. Overall, they are the greatest dunking shoes available.
Pros
For stress absorption, use Max Air units.
Nike React technology is designed to respond quickly to severe landings.
For excellent grip, a rubber outsole with an articulate tread pattern is used.
A one-of-a-kind lacing mechanism ensures a secure fit.
Soft midsole cushioning and bouncy outsole
Cons
It's a little on the pricey side.
No.2 Nike AlphaDunk Basketball Jumping Shoes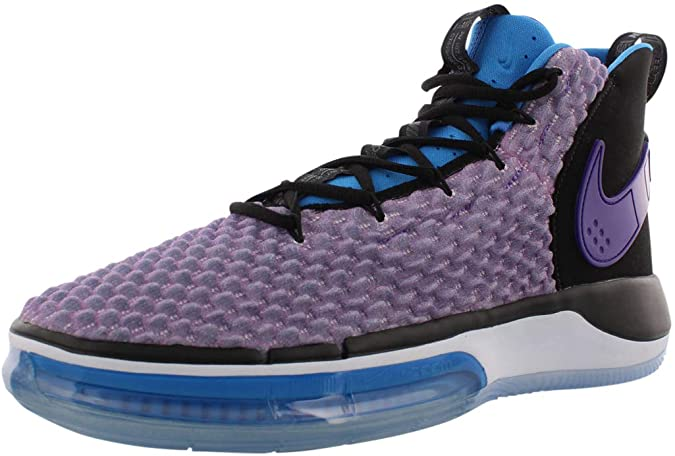 Price: $89.99 – $222.00
Buy Now On Amazon
The Nike AlphaDunk is a basketball shoe for jumping designed by Nike. The upper of the Nike AlphaDunk is constructed of breathable and comfy Flyknit technology. For takeoffs and landings, the exterior heel counter is sturdy and offers stability and balance. The Flywire wires, which keep your feet in place, will provide additional support. When you accelerate in preparation for a high jump, the combination of the external heel counter and secure flywire wires helps you produce momentum. You'll also like the fact that cushioned inside collars support your ankles. This is to ensure that you maintain your balance whether leaping high for the basket or repeatedly fighting for a rebound.
Because the midsoles are constructed of lightweight foam, they are fairly bouncy. This also creates a natural, comfy, and soft underfoot sensation. The Nike AlphaDunk has the world's largest 270-degree Zoom Air unit. The thick and broad rubber outsole is incredibly helpful of your jump's balance and stability. The outsole tread pattern is ideal for both indoor and outdoor basketball courts and provides excellent grip. You'll notice a rear pull that makes it easier to put on and take off, particularly if you're using an insole for more comfort.
Pros
For stability and balance, a large Zoom Air unit is used.
Inner collars are padded to help with difficult landings.
Good traction on a bouncy outsole
Cons
Eyelets on shoelaces may get clogged.
No.3 Kyrie 6 by Nike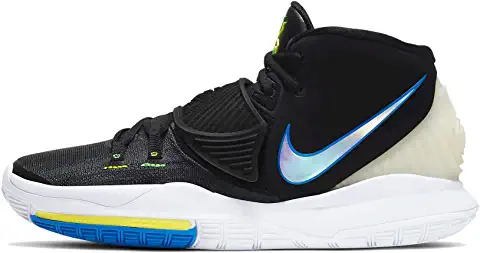 Price: $95.11
Buy Now On Amazon
Kyrie Irving's Nike signature sneakers include a high-quality top consisting of engineered leather and ballistic mesh. The mesh vamp is lightweight and breathable, with moisture-wicking properties. This pair of Nike sneakers has cushioned collars that securely wrap around your ankles to aid in leaps and dunks. This allows you to maintain your ankles aligned with your feet while attacking the hoop or leaping to stop a shot. For a secure fit, the midfoot includes a strong adjustable strap that goes across the foot.
The strengthened toe box is beneficial because it protects your feet from abrasions caused by repeated contact when accelerating to leap and landings that are forceful and impacting. Under the ball of your foot, the Kyrie 6 has a Nike Air Zoom Turbo unit. The curved construction of this pair adds support and improves multi-directional cushioning. For high leapers and dunkers, the shoes are light and provide excellent stability and balance. A distinctive multi-angle blade design can be seen on the outsole. It reaches up to the sides of the basketball jumping shoes, allowing you to leap and dunk without feeling constrained. Indoor and outdoor basketball courts benefit from the tread pattern.
Pros
Multi-angle traction improves leaping momentum.
Zoom Air Turbo units provide excellent cushioning.
The midsole material is light and springy.
For breathability, a mesh vamp is used.
Cons
Slightly narrow; order a half-size larger.
No.4 Kevin Durant's Nike KD Trey VIII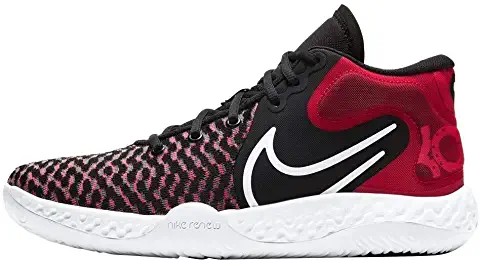 Price: $71.94 – $315.00
Buy Now On Amazon
This pair of Kevin Durant trademark basketball sneakers has a breathable and comfy top comprised of two layers of cloth. The perforated foam pods in the mid-top design are exceptionally comfortable and provide superb shock absorption. The midsole is comprised of Nike Renew technology foam, which is surrounded by a stronger foam. This design achieves the ideal blend of stability and comfort.
The responsive foam cushioning will aid in your acceleration as you prepare to leap or dunk. The cushioned tongue of the Flyknit gives another layer of protection to your forefoot. The mid-high collar, which is covered with foam, will be appreciated. It provides extra comfort and support around the ankles, which is crucial for dunkers. The high-quality rubber outsoles have a distinctive wavy tread pattern. This gives traction in several directions. Grip is good, and it performs well on both hardwood and blacktop courts.
Kevin Durant's insignia is softly sculpted on the outsole, which adds to the overall aesthetics. Overall, the responsive midsole and springy outsole make these a good combination for leaping and dunking. For safe landings, you may rely on them for acceleration, height, and support.
Pros
The rubber outsole is bouncy and long-lasting.
Upper is made of two layers of cloth for comfort and breathability.
Multi-directional traction with a wavy outsole tread pattern
Excellent shock absorption
Cons
On an outdoor surface, the outsole pattern soon wears away.
No.5
No.5 Nike Zoom KD 12
Price: $292.50
Buy Now On Amazon
The synthetic upper is lightweight and flexible. It supports quick to take off without being restrictive to the forefoot and ankle. The quad axial flywire cable system makes sure that you have a secured locked-in fit after a hard landing. It has a sock liner over the Zoom Air unit that gives you a broken-in feel and comfort. The midsole has a perforated foam that is very flexible and supports sudden stops and jumps.
The outsole pattern is non-marking and has an excellent grip which is ideal for wooden flooring. You can also use this for outdoor but the sole may tend to bottom out quickly. Overall, with Zoom KD 12's lightweight material, good cushioning, and bouncy outsole, dunkers and heavy jumpers can be assured of enjoyable and comfortable wear.
Pros
Responsive cushioning for extra bounce
Broken-in feel out-of-the-box
Sock-liner for a smooth feel
Bouncy outsole
Cons
Synthetic upper is not as breathable
No.6 Air Jordan XXXV Bred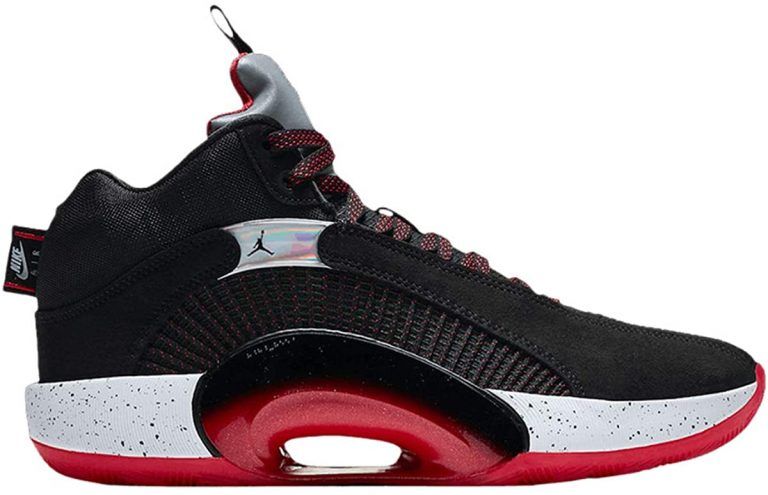 Price: $259.99
Lightweight sneakers from one of Nike's most renowned series, which are very responsive and suitable for big vertical leaps. If you want to soar high and smash the ball, you need to carry less weight, and the Air Jordan 35 has been shaved down to make it light. Furthermore, the improved cushioning structure under the heel offers excellent impact protection. These shoes are made to be comfortable and supportive.
Pros
Strong impact protection and cushioning
Shoes that are light and supportive.
Material of high quality and comfort
Fit is true to size.
Cushioning beneath the forefoot and heel is responsive.
Cons
The shoes collect dirt and are thus unsuitable for use on outdoor courts.
A break-in time is necessary for the shoe to operate at its optimum.
No.7 Nike Alphadunk Basketball Jumping Shoes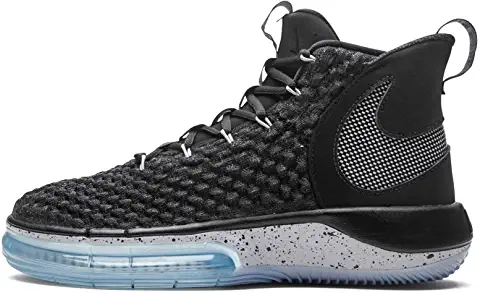 Price: $219.95
Buy Now On Amazon
If you want to dunk over the rim, this is one of the most powerful and light Nike sneakers. To unleash explosive energy during takeoff, these shoes boast the biggest stacked Zoom Air unit beneath the forefoot. The cushioned high ankle secures the foot when landing and protects the ankles from injury.
Pros
Material is light and durable.
The basketball shoe with the most bouncy Zoom Air unit.
Upper is breathable and comfy.
The top is stretchy and fits true to size, making it ideal for large players.
Ankle support is provided by the high top.
Cons
The Nike Alphadunk sneakers have a hefty feel to them.
On sandy courts, traction is poor.
No.8 Adidas Originals Men's Pro Bounce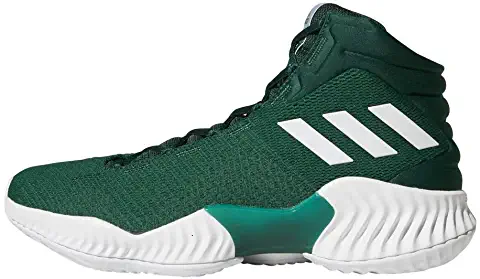 Price: $ 59
Buy Now On Amazon
If you want outstanding performance and comfort, the Adidas Originals Men's Pro Bounce is a perfect option.
These sneakers include bounce cushioning technology, as the name implies. TPU compression is used in this technique to provide the energy-returning effect. This is due to the fact that TPU cells bounce back when crushed. In the end, it gives you more freedom and comfort.
The basketball sneakers include a spiral-like traction pattern on the rubber outsole. It offers multidirectional traction to provide a secure hold during forceful landings following a dunk. It's also quite long-lasting as a result of this.
The mesh top is composed of Forgefiber, which has TPU-coated strands that have been heating pressed. They're sewn in for targeted support and lightweight durability. Aside from that, they allow the duo to breathe. This is critical, particularly when a game lasts for many hours.
Webbing eyelets are used in the cable lacing method. Geofit has designed them for anatomical fit and comfort. They also provide a lovely silhouette to the shoe. From the arch, the shaft measures roughly mid-top. It would be ideal for any all-around player.
Its tidy design makes it adaptable in terms of aesthetics. This means you may wear it off the court for a casual day out in your favourite jeans. The Adidas Pro Bounce does not need any break-in period, and the foundation provides an additional 2 inches of height.
Pros
High-quality impact absorption
The chair is really comfy and well-cushioned.
Breathable and lightweight
a secure grasp
Durable
Stylish
Cons
Ankle support is inadequate.
No.9 Adidas Crazy Explosives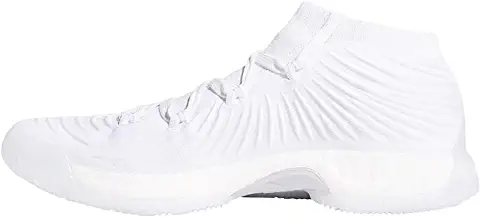 Price: $69.50
Buy Now On Amazon
If the Adidas Pro Bounce and Nike LeBron Soldiers aren't precisely what you're looking for, go no further. Adidas Crazy Explosives are designed for excellent performance and comfort, and they deliver on both counts. The shoelace method, for example, is really outstanding and soothes your feet.
The pair has full-length boost cushioning that responds to each player's stride and performs even better while leaping. These coastlines are also incredible shock absorbers. This offers excellent protection for your feet while landing on hard surfaces.
Aside from that, they feature a thick, durable rubber outsole with Boost Technology, which provides outstanding traction. These are available in a variety of styles, colours, and thickness levels, in addition to being quite durable.
The midsole is made up of a thin layer of coloured TPU wrap that blends in with the top and outsole. The pair is particularly supportive thanks to the textile and synthetic top with mesh. This shoe has a one-of-a-kind anatomical lacing system that encases the whole foot.
For your heel, it offers Achilles arch cushioning. Furthermore, laces extend all the way up the ankles, and the tongue is made of mesh. This gives the whole foot a perplexing amount of support. The whole architecture of the shoe makes it very robust.
These kicks are appropriate for both the court and the streets. This pair can survive any kind of terrain or weather conditions.
Pros
Exceptional cushioning
Exceptional grip
Very protective and supportive
Extremely relaxing
Lightweight and fashionable
Extremely long lasting
The ideal foot lockdown
Affordable
Cons
It's not very stretchy and it's not particularly breathable.
Eyelets are readily broken.
Read More