Adventure sports, Running
10 Best Affordable Running Shoes Of 2022
January 5, 2022
Everyone wants a good pair of running shoes. But the sad part of it is that they are not friendly to our pockets for most of the people. So what most people want is to get the best affordable running shoes at cheap prices.
Most companies are hitting all cylinders, cranking out new items at an unprecedented rate. This isn't simply true for top-tier running shoes with Carbon plates and clever lightweight midsoles; the sub-$100 category is finally receiving the attention it deserves.
For a long time, entry-level models were treated as an afterthought by running shoe manufacturers. There weren't many popular go-to items with costs in the double tens. The noteworthy exceptions of the Adidas Duramo, Saucony Cohesion, and Nike Downshifter.
The future of low-cost Asics running shoes is bright as well. The Gel Contend was formerly the only Asics running shoe worth noting (around $100). The Contend 7 is still available, but let's be honest: it's quite simple and aesthetically detached from the recent generation of Asics running shoes. The Metaracer, Novablast, and Metaspeed Sky with outsole rubber.
While running shoe costs might be exorbitant, there are plenty of good models in the double digits.
Despite this, the majority of the running shoes we hear about are the most costly. Because brands focus their marketing money on luxury items, the value selection gets less marketing attention.
It's important to discuss lower-cost running shoes since not all nations offer shoes at the same (US) retail costs.
A sneaker priced at $100 in the United States may cost $130-160 in another country. Depending on import tariffs and taxes – and that's before factoring in the possible difference in purchasing power parity.
In other words, the same money that will purchase you a brand-new Asics Gel-Nimbus or a Saucony Triumph in the United States. Only bring you a 'budget' running shoe in many other nations.
The quest for a sub-$100 shoe might be difficult. So we've compiled a list of 14 running shoes that cost less than $100. The ultimate selling price, however, will be determined by the shop and your area.
This buyer's guide includes both everyday trainers and non-technical trail shoes. The Asics Hyper Speed is an outlier in that it is a racer with great long distance running shoe capabilities. Rather than a daily trainer, making it a unique sub-$100 beast.
How To Evaluate Any Running Shoes Before Buying
Breathability
When it comes to running shoes, the material is also crucial; you want something that is breathable and allows for optimum airflow. Synthetic materials are not very breathable, and they will make your feet sweaty and uncomfortable. Although it is a cheaper option, it is made of a low-quality material that you should avoid in the upper section of your shoe.
Mesh should always be used for the upper. Which is fantastic all year, but especially in the summer when your body and feet are already hot. The flexible mesh upper will keep your feet cool and dry all day. Leather is also commonly used in running shoes. And while it is quite durable and stylish, it is just not as breathable and shows wear much more quickly. When you run, your foot flexes, which causes creases in the leather, but not in the mesh. Because leather will keep you odor-free, a mesh leather combination is ideal. Keep in mind that different running shoes are designed for different terrains. Those designed for soft ground such as trails may wear out much faster if used on concrete.
If you want to change up your running environment, you'll need different shoes that are tailored to the terrain.
Comfort
The importance of comfort in every shoe cannot be overstated. Uncomfortable footwear equals an uncomfortably long run. Your feet are sensitive and require all the support and protection they can get. That safe haven may be found in the form of
cushioning
The amount of cushioning needed varies from person to person and various sections of the running shoe. They are well padded the amount of padding you need is also determined by your arch.
The insole should be flexible and soft, but yet solid and supportive, and it's preferable if it's detachable. Because the midsole provides the greatest stability, shock absorption, and cushioning, it must be well-designed. Be well-made and long-lasting, otherwise, your body will suffer. The collar, for example, adds a special touch to the padding.
It's also possible that your mouth or tongue will make a difference. Most running shoes don't need to be broken in and should be made of stretchy materials like spandex. mesh. Which allows the shoe to flow with your foot. If the shoe is ill-fitting or unpleasant when you put it on. When you initially put them on, they're very certainly the incorrect size, structure, or shoe for you.
Fit
Running shoes are a fairly specialized sort of footwear that will never suit everyone. When selecting a running shoe, the most important consideration should be fit. Determine the size and form of your foot, as well as your preferred running style. Take aware of your arch, since it has an impact on your running style.
In terms of running shoes, there is no such thing as a one-size-fits-all solution. It might be simple to pick the perfect shoe after you've decided what sort of foot and run you have. As well as what support or other characteristics you may want.
It's preferable to get a size higher since your feet may expand. If you have a favorite fit, go with that instead. Furthermore, consider shoes with laces rather than straps since you will have more control over the fit and will have much better security, support, and stability.
Protection
Many elements of a running shoe are cushioned, and each one is critical for preserving your feet. Everyone's amount of cushioning differs, and depending on your arch, you may need more support than others, but a basic running shoe should be enough in cushioning your feet.
Soft and flexible insoles that provide adequate support and stability are ideal. If you often use orthotics, search for running shoes with a detachable insole, since they are the most accommodating.
Because the midsole provides the greatest stability and is where the majority of the shock is absorbed if it is not robust and constructed with correct materials, your feet and lower body will bear the brunt of your run.
Not everyone needs a substantially cushioned midsole, and some runners prefer a barely-there shoe that feels virtually barefoot-like. What feels correct and enhances your performance is entirely up to you.
Unlike sneakers, which are frequently stiffer and need breaking in, running shoes are designed to feel wonderful and be used straight away.
Because of the tension and pressure placed on your lower body during a run, problems may arise if your finest running shoes for the money are unable to suit your feet right out of the box.
Here Is The List Of Best Affordable Running Shoes
Asics Gel-Excite 7 Running Shoe: Best Allround for Women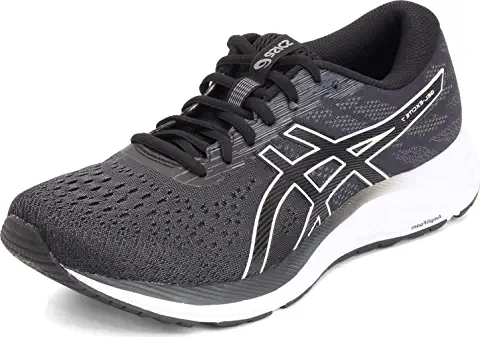 Price: $51.00 – $165.00
Buy now on Amazon
The GEL-Excite 7 from Asics is ideal for female runners searching for a lightweight, cheap running shoe. Asics' trademark GEL technology and Amplifoam midsole cushioning work together to give a cushioned underfoot for velvety comfort and a greater rebound into your stride.
Its completely developed mesh top provides great ventilation to keep feet cool and dry even during lengthy, heated runs. They're fashionable and function well as casual, all-day wear shoes for leisure activities. They're available in a variety of neutral or colorful colors and several sizes.
Saucony Cohesion Road Running Shoe: Best Allround for Men: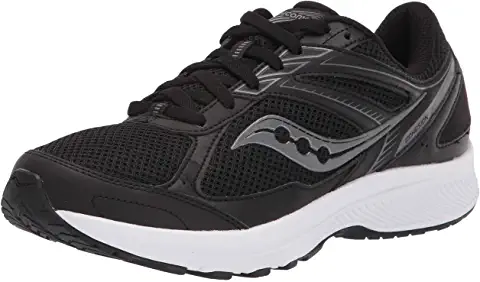 Price: $49.78 – $129.99
Buy now on Amazon
Saucony is a well-known and trusted brand among runners, and it provides a low-cost running shoe that matches its more costly counterparts. The Cohesion is an excellent choice for casual runners, marathon runners, and anybody who spends a lot of time on their feet.
This shoe's robust rubber outsole can withstand many kilometers of jogging on asphalt without weighing you down. Meanwhile, the top mesh is light and breathable, keeping your feet dry and comfy.
Its heel PowerGrid technology gives a cushioned, steady ride even at the conclusion of a lengthy run. It comes in a variety of color combinations to fit your own taste.
Nike Revolution 5: Best Lightweight Running Shoes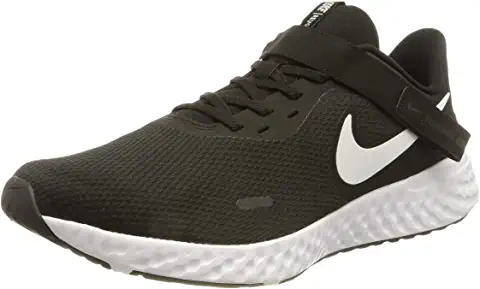 Price: $98.19
Buy now on Amazon
If you're looking for something light and adaptable for a range of exercises, the Nike Revolution is a good option. This latest Revolution model incorporates some of the more sophisticated technologies seen in more costly Nike sneakers while maintaining a low price point.
The use of Nike's Epic React Foam in the midsole is one of the features we liked the best about this design. This foam gives wearers exceptional energy feedback throughout their whole gait cycle, and it's usually reserved for Nike's most costly models.
We also like how the top of this design allows for a lot of flexibility and breathability. This makes it an ideal CrossFit, HIIT, weightlifting, and running trainer. It's crucial to notice that the top isn't very well constructed, which means that even a little amount of moisture might cause your feet to get wet.
The Nike Revolution 5 is at the top of our list because it has some of the more costly components, such as Epic React Foam, which is often reserved for more premium manufacturers.
When exercising on hard surfaces, this gives good cushioning and energy feedback, as well as superb upper movement.
Brooks Anthem 3: Second Best Lightweight Running Shoes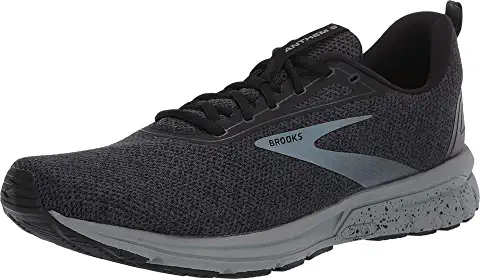 Price: $69.95 – $181.57
Buy now on Amazon
The Brooks Anthem 3 is a high-quality, multipurpose sneaker that has many of the same characteristics as the more expensive Brooks Anthem models. The BioMoGo DNA midsole has the perfect amount of cushioning while yet allowing for natural forefoot mobility. The Anthem's forefoot is made of blown rubber for a more springy toe-off, while the outsole is made of abrasion-resistant rubber for added durability.
It's great for neutral runners searching for a responsive shoe that feels comfortable from start to finish on their runs since it's light and breathable. They include a detachable footbed, much like other Brooks shoes, which is perfect for individuals who require extra room for inserts.
It'll go with whatever gear you're wearing thanks to one width choice and many classic color combinations. Indeed a great shoe for people who have flat feet.
New Balance Fresh Foam Arishi v3 Shoe: Best Cushioned: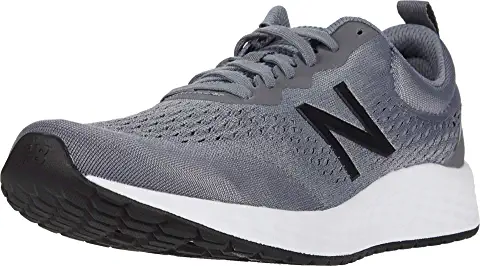 Price: $89.99
Buy now on Amazon
New Balance's Fresh Foam Arishi v3 running shoe is a good choice if you're searching for a cheap and well-cushioned option for jogging. For maximum comfort, the sneakers feature New Balance's cutting-edge Fresh Foam cushioning. Despite the considerable cushioning, the shoes are exceptionally light, allowing you to wear them for long periods of time without feeling burdened down.
These sneakers come in a variety of great color combinations and are attractive enough to wear even when you aren't exercising. They come in a variety of colors and medium or broad widths, but they run small, so go up half a size for the best fit.
Brooks Adrenaline GTS 21 : Second Best Cushioned: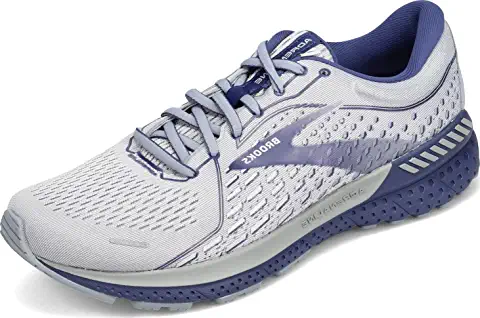 Price: $129.95
Buy now on Amazon
Brooks Adrenaline translates to a huge plush embrace that soothes and supports you in shoe language. Isn't this precisely what you're looking for in a shoe for flat feet?
This shoe has made our top selections in 15 (!) distinct running shoe categories. And we can't get enough of it, taking it on regular walks even after the wear tests are completed.
The delicate supporting mechanism that cradles your foot on the sides is what makes it our top suggestion for flat feet. Those stronger bumpers around the heel perform an excellent job of keeping the heel in place when walking or running. They prevent the foot from rolling inwards, which is common in those with flat feet.
This Brooks trainer also makes use of one of our favorite cushioning foams, which is among the plushest in running shoes. Even on the longest of test runs (10K), our feet felt caressed, and there was no need for a rest break!
The shoe's amply cushioned top also ensures all-day comfort for your feet. A delicate but secure grasp around the ankle also helps to reduce pressure on your feet.
We also consider it to be one of the most durable everyday trainers on the market, making it an excellent choice for all-day use in addition to running.
Brooks Adrenaline GTS 21 was our first love!
ASICS Women's GEL-Venture 7 Running Shoes: Best for Trail Running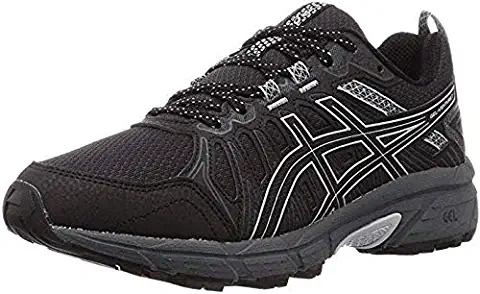 Price: $39.95 – $150.00
Buy now on Amazon
The Asics GEL-Venture 7 is an excellent choice for individuals who like both road and trail running. GEL cushioning from Asics helps absorb impact stress and delivers general comfort, regardless of distance. The outsole's reverse-traction lugs provide more cushioning as well as excellent grip for running or walking on trails, especially in rainy conditions.
The shoes include a supportive sock liner that can be removed if you wish to use orthotics, making them suitable for anyone who has had foot problems in the past. The outsoles are further strengthened in high-wear regions, enhancing their longevity.
Whether you require extra toebox room or not, you'll find the perfect fit among the medium and broad width choices and a variety of bold color combinations.
Saucony Peregrine 11: Second Best Trail Running Shoes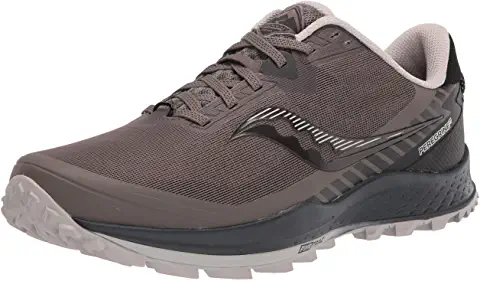 Price: $94.00 – $230.00
Buy now on Amazon
The Saucony Peregrine has evolved over the last decade from a trail racing shoe to a more traditional, daily trail shoe. It doesn't have a lot of bells and whistles, and it isn't particularly creative, but it offers a good mix of traction, light cushioning, enough underfoot protection, and a breathable, lockdown upper. It just works, which is fantastic.
Furthermore, at $120, the Peregrine 11 is the best deal in our top tier of selections for a dedicated, fully competent trail shoe. For individuals who run in muddy or snowy conditions.
In terms of lugs, there are a lot of them in that cleat design, yet it has a medium-ish profile. There are forward-facing lugs, rear-facing lugs, and a whole rubber outsole, so there aren't any places where things will be pushed into it and foam will fall out. This is something you see a lot in the business these days. The rock plate is highlighted by these little holes on the outsole.
Rather than being plastic, what's below here is a cloth plate. To offer that rock plate, it's like nylon thread firmly knitted together. As a result, you get a shoe that is quite adaptable. It isn't as versatile as the Peregrine 9, which can be folded in half, but it does come with a rock plate. I believe that even on the most difficult terrain, this is a shoe that will not unnecessarily exhaust your foot, but it is not a tank-like shoe, so it will not give complete protection.
New Balance Women's 680v6 Running Shoes: Best for Wide Feet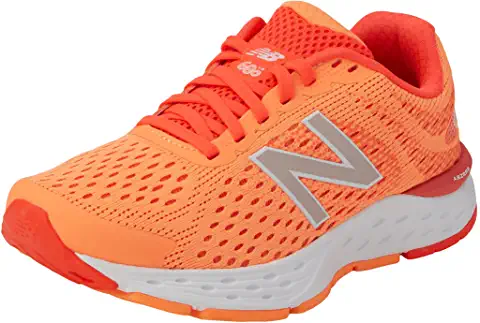 Price: $73.49
Buy now on Amazon
Runners with broad feet generally have a difficult time finding good shoes at a reasonable price, but there are some good deals out there. New Balance's 680v6 running shoe is known for its variable widths that fit broader feet.
The shoe is light and airy while being strong, supportive, and long-lasting. You can't go wrong with this pair, which comes in a variety of colors and width widths, whether you're on your feet all day at work or require comfortable running shoes.
Brooks Addiction GTS 15: Second Best Running Shoes For Wide Feet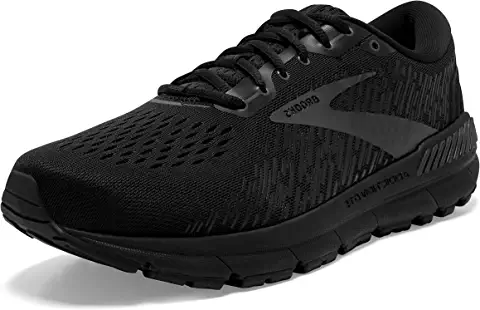 Price: $116.58 – $268.84
Buy now on Amazon
What is the Brooks Addiction GTS 15 all about, first and foremost? To be honest, the Brooks line is becoming more perplexing.
Since removing stiffer medial supports from most of their shoes (such as the Beast and Adrenaline), many of their shoes have started to appear the same owing to the widespread usage of Guiderails. This is the elevated midsole edge that is supposed to 'guide' the foot during the transition process.
The Addiction GTS 15 has the same nomenclature as the Addiction 14, but instead of a medial post, it has 'Guiderails.' Regardless, this supportive (and hefty) shoe has a similar feature with the Addiction 14: a roomy inside.
The Addiction GTS 15 benefits from a large midsole that translates to a spacious top. Runners with broad feet can benefit from this orthotic-friendly stability shoe. Brooks also offers the even larger 2E and 4E sizes for Clydesdale-like feet.
Conclusion
This is the list of the best budget running shoes with exceptional features whether you look for their rubber outsole or any quality they will definitely outrank that and on top of that all these shoes that I listed above come in the best budget-friendly running shoe.
The reason for creating this article was very simple and that was to inform you of the best affordable running shoe so you never miss your running anymore.