Adventure sports, Running
Best Running Shoes For Flat Feet
December 24, 2021
Flat-footed runners encounter a lot of obstacles when it comes to picking the correct running shoe, not the least of which is a deluge of contradictory information on the subject. The internet and your local running shop will almost certainly advise you to get a shoe with additional arch support. Sports injury specialists will advise you to do the opposite. So, who do you put your faith in? Unfortunately, there is no simple answer—the best shoe for you is determined by your gait cycle, range of motion, and unique foot, among other things. However, there are a few elements to look for in running shoes that may help your low arches feel more supported and comfortable—as well as a number of shoes that have been shown to perform well for flat-footed runners. Continue reading for our recommendations and purchasing suggestions.
There Are Two Types of Flat Feet
Some runners have physically flat feet, while others have "collapsed arches," which are flat due to muscular weakness. Although the two kinds may seem to be quite similar, how you approach choosing shoes for them differs greatly, according to Dr. Kimberly Davis of the RunLab, an Austin, Texas-based clinic that examines running biomechanics and provides physical therapy and training.
When searching for a shoe for a flat-footed runner with collapsed arches owing to muscular weakness, Dr. Davis recommends adding arch support until the foot becomes stronger and can support its own arch. However, with an anatomically flat foot, arch support just transfers stress up into the knee, where it might cause knee issues. That's why it's critical to understand your flat foot type before selecting a shoe—and to consider not just your foot but your complete body, including knees, hips, and range of motion.
In relation to Overpronation and Arch Support
Overpronation occurs when the arches of the foot roll inward after landing in runners with flat feet. (However, this isn't universal—there are plenty of flat-footed runners who are biomechanically sound and efficient, with no overpronation.) Until recently, the running industry recommended stability shoes to overpronators in order to control this motion. All of that is gradually changing, with the knowledge that stability qualities, although preferred by certain runners, don't do much to correct the normal cycle of the foot. According to Dr. Davis, persons with flat feet frequently have very flexible feet that never get stiff during the push-off. "The footwear industry attempts to fix that by placing an arch support in there to give them an arch or to promote supination in the foot," she explains. "But that foot has physically constructed that way; it's not something a shoe can fix."
A Midsole with Full Contact
Arch support, according to Jay Dicharry, author of "Anatomy for Runners" and director of the REP Lab in Bend, Oregon, might be harmful since the arch is dynamic by nature, and having additional structure there can prevent your foot from moving. Dicharry recommends that flat-footed runners look for shoes with a straight "last," which is the mould that determines the form of the shoe. Straight-lasted shoes have a larger midfoot foundation and less of a cut-in, a profile that has mostly been replaced by hourglass-shaped shoes. According to him, most modern shoes do not offer a stable support surface for flat-footed runners. "The difficulty is that all of these hourglass shoe forms seem good on the wall, but when someone with a flat foot puts weight on one, part of their foot bears weight on the fabric top," he explains. "The top does not function as a midsole to provide foot support." When your feet are on a level surface, they perform well."
Flat Feet Are Only One Factor Among Many
Most running shoes will work for most runners; however, if your shoes aren't instantly comfy or if you're suffering discomfort while running, you should try a new pair. Get your movement patterns evaluated, whether at a clinic like the RunLab or a running shop that provides gait analysis. Once you've gathered more information on your feet and movement patterns, you may take it to a running shop to select the perfect shoe for you. Before acquiring anything, don't be hesitant to take a shoe for a test run after an examination.
List of Best Running Shoes For Flat Feet
N0#1.Brooks Adrenaline GTS 21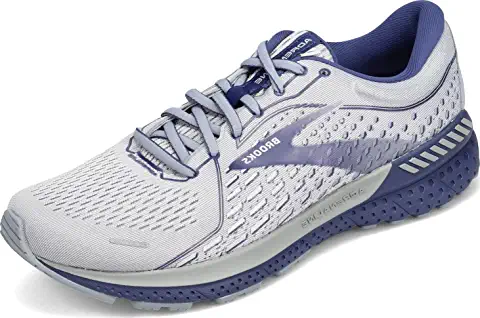 Price: $129.95
Brooks Adrenaline translates to a huge plush embrace that soothes and supports you in shoe language. Isn't this precisely what you're looking for in a shoe for flat feet?
This shoe has made our top selections in 15 (!) distinct running shoe categories. And we can't get enough of it, taking it on regular walks even after the wear tests are completed.
The delicate supporting mechanism that cradles your foot on the sides is what makes it our top suggestion for flat feet. Those stronger bumpers around the heel perform an excellent job of keeping the heel in place when walking or running. They prevent the foot from rolling inwards, which is common in those with flat feet.
This Brooks trainer also makes use of one of our favorite cushioning foams, which is among the plushest in running shoes. Even on the longest of test runs (10K), our feet felt caressed, and there was no need for a rest break!
The shoe's amply cushioned top also ensures all-day comfort for your feet. A delicate but secure grasp around the ankle also helps to reduce pressure on your feet.
We also consider it to be one of the most durable everyday trainers on the market, making it an excellent choice for all-day use in addition to running.
Brooks Adrenaline GTS 21 was our first love!
No#2. Dyad 11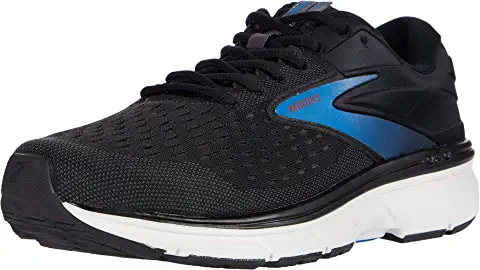 Price: $129.95 – $254.31
Heavier runners and those with large feet have long loved the Dyad's spacious toe box, which allows your feet to expand out and feel at ease. The shoe has also gained popularity among flat-footed individuals, owing to its wide fit and a straighter last that allows for greater on-ground contact via the midsole. Yes, the shoe is heavy—but with that weight comes a lot of long-lasting cushioning and support.
The shoe's midsole provides a smooth, memory-foam feel that conforms to diverse foot shapes. Two dual arch pods in the midfoot give a tiny level of stability for overpronators while having little effect on runners with a neutral stride, and a "heel crash" cushion smooths transitions. Injury-prone and injured runners have discovered that the Dyad has adequate room to incorporate orthotics, making this shoe an excellent choice for walkers.
No#3. Brooks Beast 20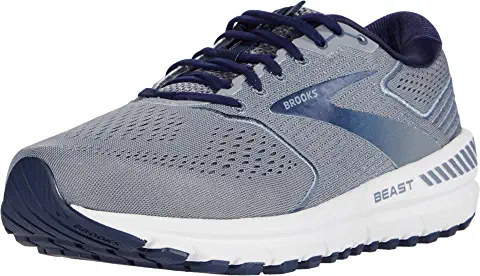 Price: $159.95 – $291.87
Runners who like gentle cushioning in a heavy-duty distance shoe have traditionally favoured the Beast and Ariel (women's versions). Many of our broader-footed test runners praised the shoe's wider platform, increased midfoot support, and improved stability elements.
It also has a straighter last, which may assist certain flat-footed runners in making more contact with the midsole rather than the top. Brooks has introduced guiding rails to the midsole of the shoe's 20th edition to help bring an overpronating foot into position. The shoe's total weight has also been lowered, making this the lightest Beast to yet.
No#4. Asics Gel Kayano 28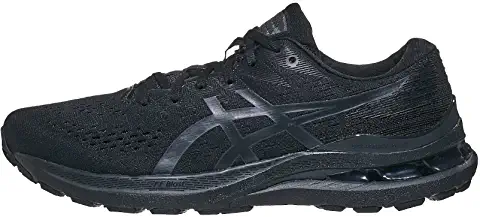 Price: $119.00 – $298.68
Asics Gel Kayano, now in its 30th edition, is the undisputed king of stability running shoes!
And if you thought this series was too long, the 28th installment may change your opinion, as it did ours!
It seems to be less obtrusive, more flexible and cushioned. We still felt the familiar comforting embrace all around the foot, but it seemed more fine-tuned to the foot this time. There will be no more tightness from the firm medial post!
The new FlyteFoam Blast foam, which is utilized in the brand's fastest racing shoes, is another significant surprise. We could certainly sense the difference in the ride: the Kayano 28 is more responsive and even peppier than previous generations.
Finally! The shoe even sheds some weight (0.5 oz), putting it on the lower end of the stability shoe spectrum (the average is at 11.8 oz).
In terms of durability, the term "Kayano" may be used to define the amount of durability. Based on our stiffness and wear testing, this item will go far further than 500 miles.
The very generous padding is something you either love or despise. It's all over! So, if you like a huge fuzzy hug, this item is out of this world when compared to the norm. For example, its tongue is 14 mm thick, while typical running shoes' tongues are just approximately 5.5 mm thick!
The Kayano 28 will keep your feet steady no matter how far you travel thanks to its comfort and support.
No#5. ASICS GT-2000 9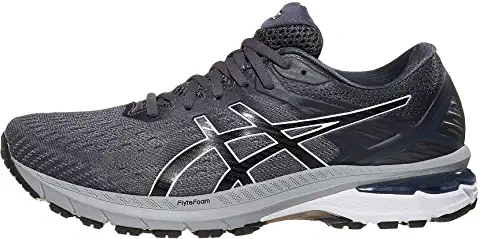 Price: $99.00 – $248.89
Gait guiding technology aids runners in achieving an efficient stride by preventing overpronation. So, which shoe has the best gait guiding technology? The ASICS GT-2000 9 receives our vote. ASICS is recognized for its stability shoes, so it's no surprise that they've mastered this area as well.
But how do they manage it? It's allowing to their all-star stability combo in the midfoot, DUOMAXTM, and TRUSSTIC SYSTEMTM technology.
No#6. Asics GT 1000 10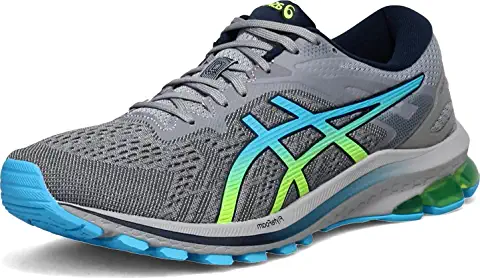 Price: $83.99 – $210.31
If the $160 Kayano is out of your price range, we strongly suggest its less expensive sister, the GT 1000 10.
Sure, it misses some of the premium technology, such as Gel cushioning, but it is an excellent alternative if all you want is a basic stability shoe for around $100.
The GT 1000 was comfortable to use for short daily runs, leisurely walks, and even all-day wear. With its effective support system, it may quickly become one's go-to shoe. In this shoe, your overpronation is kept under control, yet we suggest upgrading to the Kayano if you have significant overpronation.
It's also fairly light for a stable shoe! More specifically, we found it to be 17% lighter than the norm.
We consider it as an excellent entry-level alternative for runners who are just beginning to strengthen their feet and ankles and might benefit from additional support to prevent injury.
The GT 1000's stability and width kept us on our feet throughout the wear testing.
It's not fast, and we wouldn't suggest it for extended runs (10K+). However, for regular everyday usage, this Asics shoe is one of the most comfortable stability alternatives for around $100!
No#7. Saucony Echelon 8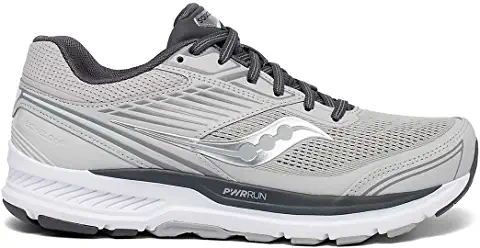 Price: $89.99 – $209.37
The Echelon has proven to be an excellent choice for runners with flat feet or low arches. The Echelon is a neutral shoe with less arch support and a broader foundation across the midsole and forefoot that offers soft cushioning and the toughness to endure high-volume training and extended kilometers.
The shoe has been particularly well received by heavier runners and runners who require orthotics, however, its popularity is not restricted to those groups. "The Echelon 7 seems to be a robust shoe that will endure," said one of our prior model testers.
No#8.Saucony Guide 14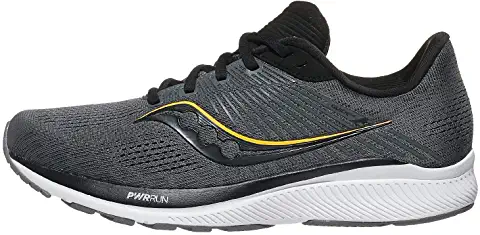 Price: $71.00 – $209.72
Previous generations of the Guide prioritized comfort and cushioning over extra heft, but the 14 hits a perfect spot. The shoe is still quite snug, soft, and stable—it includes a Pwrrun midsole as well as a medial post and heel counter for further support—but the current edition has a more streamlined top and a lighter, more responsive foam composition.
It also retains the custom-feeling fit that first drew it a following among many various sorts of runners, including the flat- and wider-footed. It's a fantastic shoe for medium- to long-distance runs, and it accomplishes precisely what the name implies: gently guides you toward a more neutral stride.
No#9. Saucony Hurricane 23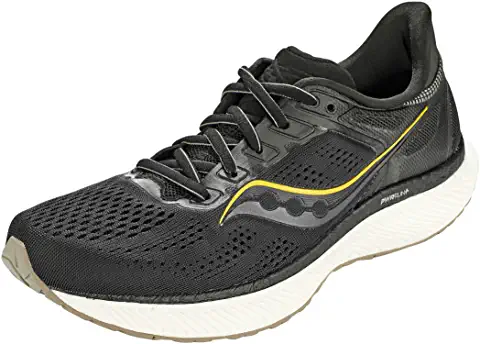 Price: $90.00 – $224.99
That's a lot of money!
The Hurricane is Saucony's most comfortable and reliable everyday trainer. It also makes use of the brand's premium foam, which can also be found in its top-tier marathon shoes (the Endorphin series).
We tried it on shorter runs as well as on longer efforts (10K) and definitely recommend it for both purposes!
It is quite likely the most astounding mix of plushness and responsiveness we have ever encountered! Soft often equals mushy, but not in Hurricane 23! We would have assumed we were running in the Endorphin Pro if it hadn't been for the extra weight and stability!
However, weight isn't a big deal here. The shoe falls somewhere in the middle of the stability shoe spectrum.
The shoe performed well in terms of stability. Even if you have a more severe case of overpronation, the Hurricane will be quite beneficial. It has a broad, robust foundation, as well as the brand's premium support system.
And this trainer exudes coziness! It has one of the most form-fitting uppers among running shoes, and it feels like memory foam.
Overall, the Saucony Hurricane 23 sets a high standard for $160 and lives up to it!
No#10. Brooks Glycerin GTS 19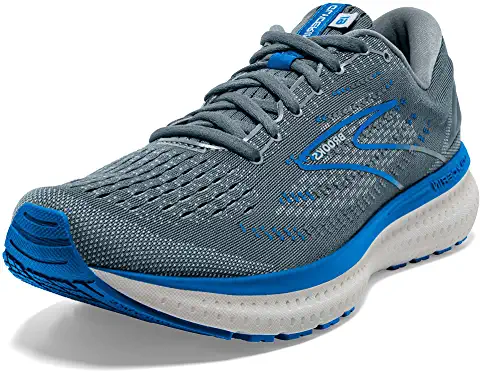 Price: $149.95
"Luxurious," we thought as soon as we stepped into a pair of Glycerins. It invites you to go for a long run with the brand's softest cushioning yet.
At the same time, there is no sinking feeling that you would anticipate from a fluffy shoe like this. Even though it's not the most bouncy foam, it has decent responsiveness underfoot.
It, like the Adrenaline, is supported by Brooks' GuideRails system, which we've come to love. It softly wraps around the sides of your heel and assists you through the heel-to-toe transition.
What we appreciate most about it is that it doesn't feel like a stability shoe at all! It prevents the foot from rolling inwards while yet feeling like a neutral shoe with added support.
We can also suggest it to runners with neutral pronation who want a bit of additional assistance for their fatigued legs on slow recovery runs.
At the same time, it feels light for a maximum-cushioned support shoe! We were pleased that they were around 1 oz lighter than stability shoes on average!
And such a plush upper! You can truly feel the typical Brooks commitment to upper comfort. Surprisingly, unlike the equally cushioned Kayano, it nevertheless allows for decent breathability.
Overall, if you want actual cushions beneath your feet for those slower days, the Brooks Glycerin GTS 19 is our top pick!
No#11. Salomon XA Pro 3D V8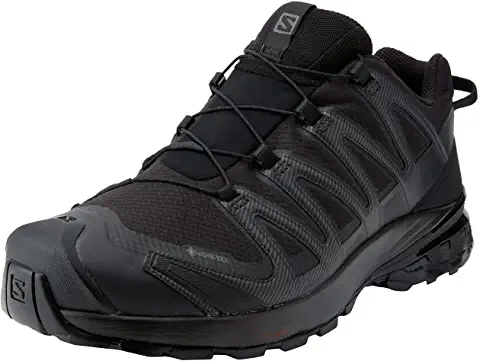 Price: $140.41 – $167.86
We can't think of any trail shoe that provides better arch support and stability than the Salomon XA Pro 3D V8.
In this sturdy tank of a sneaker, every stride feels rooted and surefooted. We put it through its paces on 10K+ runs and all-day treks, as well as tougher rocky terrain and gentler muddy trails. In a nutshell, it's a monster!
The shoe's soles never let us slide on wet rocks and branches, with the hold of a ravenous tiger. And the quantity of heavy-duty rubber on the outsole, around the toes, sides, and heel, making striking a rock seem as light as a feather. You are shielded from all sides!
Because of the built-in 3D chassis, our feet stayed stable. This shoe will make you forget that your foot ever turned inwards, no matter how bad your condition of flat feet or overpronation is.
The broad and strong midfoot cage adds to the stability. It has zigzag overlays that hug the foot. Even on the most twisty terrain, there was no foot movement after we laced up the shoe. The lockdown in this Salomon sneaker is unrivaled!
And the Quicklace system opens up a whole new universe! If you haven't tried it yet, we promise it will alter your mind about laces in an instant. It takes seconds to tighten or loosen it while on the go since it is so fast and simple to adjust.
On top of that, our durability forecasts for this sneaker are out of this world! This item will last AT LEAST 500 miles.
And if you don't mind sacrificing weight and stiffness in exchange for all of the perks listed above, the Salomon XA Pro 3D V8 is our top pick for the trails!
What exactly are flat feet?
Flat feet, also known as fallen arches, are distinguished by the absence of an arch, implying that the whole sole of the foot is in contact with the ground. According to research, this foot problem affects 20% to 30% of the general population. Adults who are over 40 years old and fat are more likely to be affected.
If you are a flat-footed runner, this shopping guide will assist you in selecting the best pair of running shoes for your needs.
Source: RunRepeat
Three blunders to avoid while shopping for running shoes for flat feet
Are there shoes developed specifically for flat feet? No, not exactly! Overpronation running shoes are available, and most flat-footed runners overpronate. As a result, people with flat feet benefit from wearing stability or motion control shoes.
Avoid the following blunders while looking for the most comfortable running shoe for your flat feet:
1. Not knowing how much assistance you need
Extra arch support is not always the solution when it comes to flat feet. Your options will be greatly influenced by whether you have flexible or inflexible flat feet.
2. Ignoring the importance of heel and toe support
Flat-footed runners often exert greater stress in the heel and toe regions, necessitating the use of running shoes with increased durability and support in those areas. Because of these additional characteristics, running shoes for flat feet are often larger and thicker than standard running shoes.
3. Failure to recognize the significance of shoe last
When it comes to flat feet, arch support isn't the only option. You must pay close attention to the shoe's last or mold. It determines the amount of stability of the shoe.
A straight last will assist flat-footed runners in feeling more secure and avoiding discomfort.