Adventure sports, Fishing
9 best fishing line for bass
December 29, 2021
Few fishing lines are designed specifically for a particular species. Instead, they come in a variety of pound tests, lengths, and colors. This lets you choose the optimum combination for your target fish. Certain kinds of lines are ideal for particular uses when it comes to bass fishing. The floating nature of the monofilament line, for example, makes it excellent for topwater lure fishing. The amazing strength of the braided line comes in useful when angling for prize bass. We've compiled our finest recommendations so you can reel in your big catch in no time.
No.1 PowerPro Spectra Fiber Braided Fishing Line($30)
Price: $14.99 – $30.99
The PowerPro Spectra Fiber Braided Fishing Line, marketed as the workhorse of the recognised PowerPro portfolio. It delivers outstanding abrasion resistance and an amazing strength/diameter ratio. Making it perfect for piling onto the spool when hunting large bass or fishing in thick cover. Unlike many braided lines, it's also surprisingly affordable. It's this combination of quality and value that makes it our top overall option.
The line is made from ultra-strong braided Spectra Fiber and is treated with the brand's Enhanced Body Technology. Which makes it rounder, smoother, and more sensitive than rivals in the same price range. This smoothness lets you to throw longer. While the roundness allows you to reel the fishing line cleanly back onto the spool, eliminating tangling. There are several different lengths and pound tests to pick from, ranging from a 150-yard/8-pound line to a 1,500-yard/150-pound line. (for much larger species than a bass!). Moss green, vermilion red, and high-vis yellow are among the colors available.
Pound test: 3, 4, 5, 8, 10, 15, 20, 30, 40, 50, 65, 80, 100, 150, 200, and 250 pounds; spool length: 100, 150, 300, 500, 1,500, and 3,000 yards;
line material: Spectra Fiber
N0.2 KastKing World Premium Monofilament Fishing Line For Bass
Price: $6.99 – $13.99
KastKing World's Premium Monofilament Fishing Line is available in 300-yard or 600-yard lengths with pound tests ranging from four to 30 pounds. You may get a spool for near to nothing depending on the line strength and length you select. Despite its low price, the brand is well-known for its high quality.
It is abrasion resistant and pliable enough to allow for strong, dependable knots. The brand's Paralleled Roll Track technology increases reel capacity and avoids line sinking into the spool. It allows you to throw farther and more smoothly. Rebel red, chrome blue monoline, and dawn yellow are available as line colors. The ice clear version has exceptional clarity, making it a viable cost-effective alternative to a fluorocarbon leader.
Pound test: 4 to 30 pounds | Length of Spool: 300 to 600 yards | Line Material: Monofilament nylon
N0.3 Berkley Trilene XL For Bass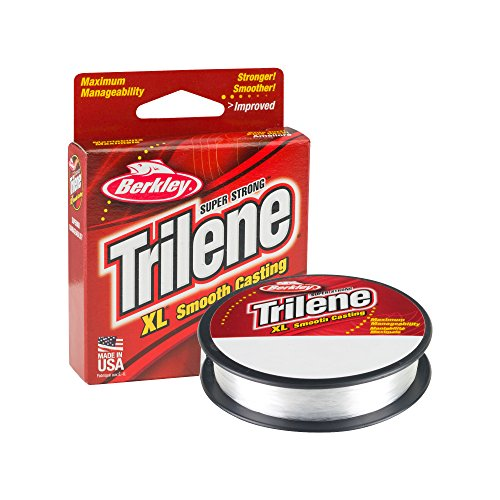 Price: $19.99 – $25.85
Because monofilament extends more than other kinds of line, it makes it more difficult for bass to spit your bait during the struggle. As a result, it's an excellent option for treble-hooked lures such as lipless and diving crankbaits. It also floats better than fluorocarbon or braid, making it fish excellent choice for topwater lures. The Trilene XL from Berkley is well-known for its strength and sensitivity. A new recipe increases knot strength by 20% over the old formula. While also increasing wet strength by 50% and flexibility by 20%.
Smooth Casting treatment from the brand also helps to lessen the risk of tangles, twists, and kinks, allowing you to cast deeper and with more precision. Choose from a variety of lengths and pound tests (from 2 to 30 pounds), then choose the colour that best matches the fishing circumstances on any particular day. Green is ideal for fishing amid dense vegetation, whereas clear/blue is ideal for fishing in clear water on a bright day.
Pound test: 2, 4, 6, 8, 10, 12, 14, 17, 20, 25, and 30 pounds | Length of Spool: 110, 250, 270, 300, 330, 1,000, 2,300, 2,600, and 3,000 yards | Line Material: Monofilament
No.4 P-Line Tactical Fluorocarbon For Bass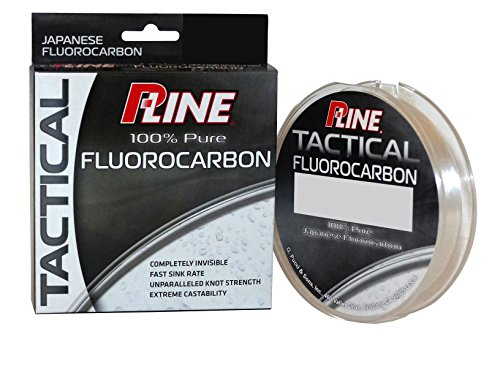 Price: $19.99 – $39.24
Previously used solely as a leader for braided lines, many fisherman are now choosing to load their spools entirely with fluorocarbon. It refracts light and is practically invisible below, making it an excellent option for pressured bass in clear water. The P-Line Tactical Fluorocarbon is constructed of 100 percent pure premium Japanese fluorocarbon, which is extruded using the most advanced raw ingredients and extrusion procedures to provide remarkable strength and durability.
Despite its high price, the line was awarded Best of Expo in the Line category at ICAST 2016, the world's biggest sportfishing trade show. Because of its improved smoothness, it can be cast for longer periods of time, and a particular composition makes it clearer and more abrasion resistant than most other fluorocarbons. It is available in pound tests ranging from 6 to 20 pounds on a 200-yard spool. Its quick sink rate also makes it a perfect match for sinking jigs and worms.
Pound test: 6 to 20 pounds | Length of Spool: 200 yards | Line Material: Japanese fluorocarbon
No.5 SpiderWire Stealth Braid Fishing Line For Bass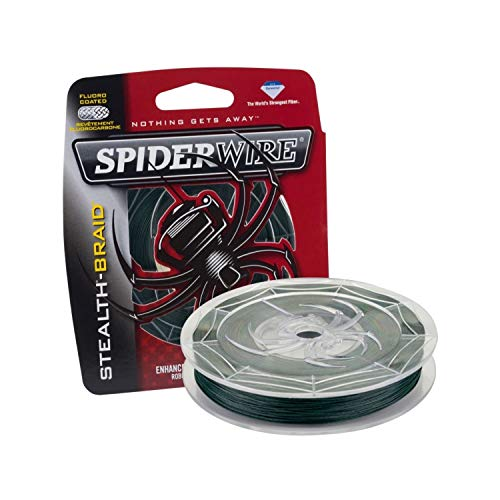 Price: $12.99 – $120.99
Braided line is well-known for its tremendous strength and tiny diameter, which allows you to put more on the reel at a given pound test than you could with fluorocarbon or monofilament line. Spiderwire Stealth fishing line is constructed of Dyneema, the world's strongest fibre, providing unmatched strength and thinness. The circular form of the line helps it to move easily on and off the spool while minimising backlash. The fluoropolymer treatment allows for longer casts while keeping sound to a minimum for a more covert approach.
The line has no stretch, as do most braided lines. This means you can feel structure and bites right away, making it simpler to create good hook setups. Choose from a wide range of lengths and pound tests before selecting one of seven distinct colours ranging from low-visibility blue camo or moss green to high-vis yellow. The latter allows you to see the line well above the water, providing you with a visual warning of any slight impacts. The only disadvantage of this product? Colors fade fast, according to some reviews.
pound test: 6, 8, 10, 15, 20, 30, 40, 50, 65, 80, 100, 150, and 250 pound | Spool lengths: 125, 200, 250, 300, 500, 1,500, and 3,000 yards | Line Dyneema is the material.
No.6 KastKing Copolymer Fishing Line For Bass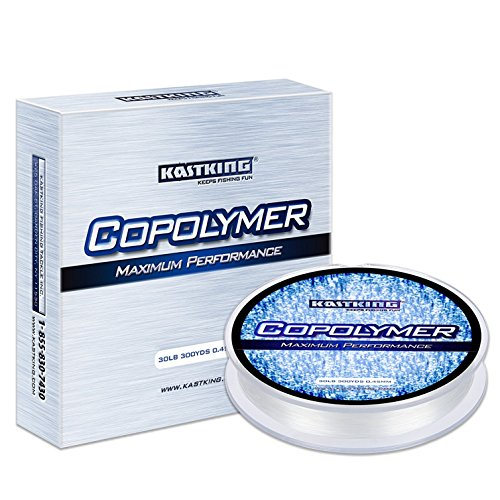 Price: $13.99 – $120.99
Those who can't decide between monofilament and braid can select KastKing's Copolymer Fishing Line, which combines the benefits of both. Copolymer outperforms classic mono in terms of abrasion resistance and line memory. The latter is a significant benefit since it allows for longer, smoother casts with fewer tangles. The line is also more stretchy than braid or fluorocarbon, making it ideal for circumstances when you want the bass to hang on for a bit longer before hitting. A copolymer line also makes it simpler to create tight knots.
Except for topwater lure tactics, these features make the line perfect for all types of bass fishing. This is due to the fact that KastKing's copolymer is engineered to cut through the water for quick presentation of sinking lures. It is available in four different colours: copper, green, camo, and clear. The transparent line may be used as an effective leader and is a less expensive alternative to fluorocarbon. The line comes on a 300-yard spool, whether you pick a 4-pound or 30-pound line.
Pound test: 4 to 30 pounds | Length of Spool: 300 yards | Line Material: Monofilament nylon
No.7 Berkley NanoFil Uni-Filament Fishing Line for Bass
Price: $17.04
Berkley NanoFil is yet another modern braid-to-monofilament hybrid. It is formed from hundreds of Dyneema nanofilaments that have been molecularly joined to form a single, unified filament line and has won four international awards. It has the brand's thinnest line per pound test and a very high strength/diameter ratio. You can load enough of the high-breaking strength line required to target large bass into the compact spinning reels associated with ultralight rigs, making it a perfect option for ultralight bass fishing.
It's also Berkley's longest casting line, allowing for great accuracy with minimum effort. With zero stretch, you can instantly feel every chomp and bite, and zero memory almost eliminates line tangling. Pound tests vary from 2 to 17 pounds, lengths from 150 to 1,500 yards, and colour options include clear mist, high-visibility chartreuse, and low-visibility green.
Pound test: 2, 4, 6, 8, 10, 12, 14, and 17 pounds | Length of Spool: 150, 300, and 1,500 yards | Line Material: Dyneema
No.8 Hydros Warmwater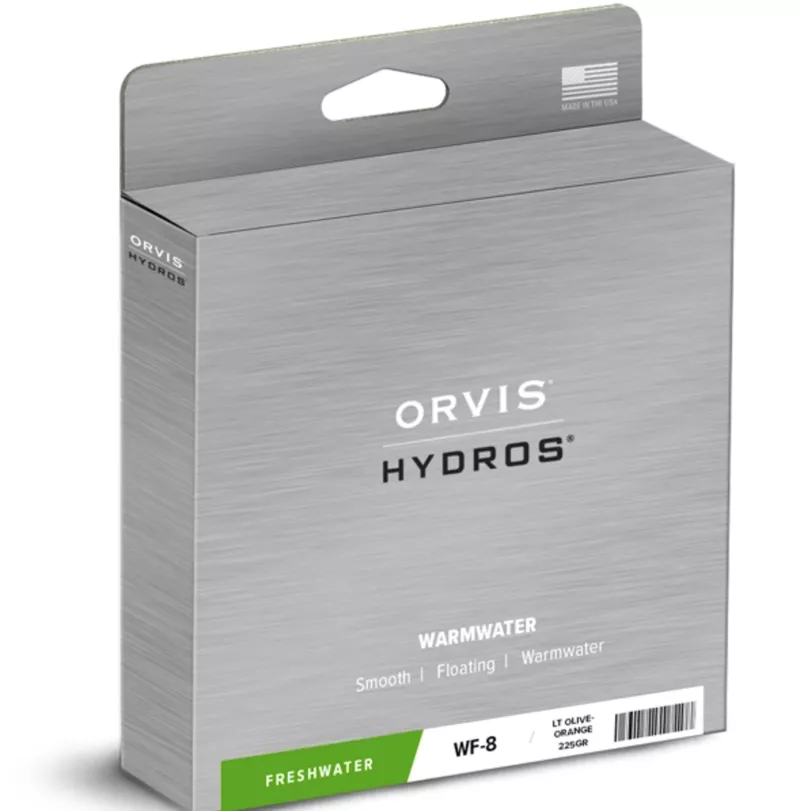 Price: $17.04
The Orvis Hydros Warmwater is specifically built for bass fishing and excels at putting huge flies into small locations. The small head and short front taper are ideal for heavy nymph rigs at short to medium distances, allowing you to guide flies through any thick cover and into shady holes where large bass hang out without fouling up. The brand's Integrated Slickness ingredient, which offers lubrication for optimum casting distance, allows you to cast smoothly into the wind. It also keeps the line supple for a longer period of time.
Orvis' printed Line ID helps you read the taper, weight, and usefulness at a glance, allowing you to quickly pull it from your tackle box. Attach your leader just as easily by utilising the improved welded loop on the line. It has a length of 90 feet and is available in 6-, 7-, 8-, or 9-pound tests. The chartreuse/orange hue is quite noticeable, helping you can plainly observe strikes and line placement.
Pound test: 6, 7, 8, and 9 pounds | Length of Spool: 30 yards | Line Material: Monofilament core
No.9 Seaguar Tatsu
Price: $11.99 – $59.99
The Tatsu from Seaguar features a double-structure fluorocarbon material constructed from two resins that have been fused into a single line, one with a robust yet soft outside and better inner strength, providing the ultimate combination of strength and castability. Tatsu, which means "dragon" in Japanese, is the best option for cast fishing for deeper-swimming fish and sport bass, with line weights ranging from 4 to 25 pounds. It is available in two spool lengths, 200 and 1,000 yards, and, like other real fluorocarbon lines, disintegrates when submerged.
Pound test: 4, 6, 8, 10, 12, 15, 17, 20, 22, and 25 pounds | Length of Spool: 200 and 1,000 yards | Line Material: Fluorocarbon
Also Read