Adventure sports, Running
12 Best Long Distance Running Shoes
December 24, 2021
Best long distance running shoes come with a lot of features to enhance your performance. You need something soft enough to dull the brutal pavement, sturdy enough to offer appropriate push-off mile after mile, and beefy enough to withstand an hours-long pummeling while remaining light enough to prevent the term "slog" from entering your mind.
Durability and comfort will also be important considerations since you'll be spending a lot of time in these shoes and don't want to replace them every two months. Whether you're training for a marathon or just increasing your mileage for the fun and challenge of it, our testing has concluded that these are the finest shoes for the task.
When it comes to selecting a distance running shoe, it might be a stressful and frantic scenario. There are several brands to choose from, as well as hundreds of designs, support levels, cushioning, and colors.
The decision you make, whether it's a 5K, a half or full marathon, or anything in between, is critical. The last thing you need is for your shoes to fail and damage either you or your feet. In this shopping guide, we will look at some of the most popular options to help you choose the finest long distance running shoes.
What to Watch Out For When Buying Best Long Distance Running Shoes
In terms of comfort, lifespan, and value, the best long-distance running shoes share noteworthy traits with the best running shoes overall. However, if you spend a lot of time on your feet, you may benefit from a broader toe box and a more expansive upper in case of swelling. We also found that extremely experienced runners do better in more minimalist shoes than newcomers, since well-honed gait mechanics might assist reduce the need for additional cushioning.
First-time marathoners, on the other hand, frequently welcome the added cushioning of a heavier trainer and the assistance it provides in getting them to the starting line in one piece.
You can check this article for more information on what to look for before buying your first long distance running shoes.
Here Is The List Of Best Long Distance Running Shoes
No#1. Asics Gel-Nimbus Lite 2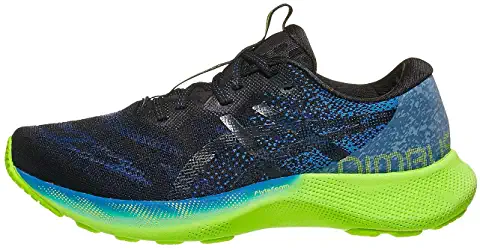 Price: $129.95
The Nimbus, a longtime favorite for its gentle cushioning and long-distance durability, dropped considerable weight (more than an ounce) when Asics debuted the Nimbus Lite. While the original Lite edition was a good start toward bettering the series, our testers found that the Flytefoam cushioning felt sluggish and less responsive at the conclusion of lengthy runs. This update addresses that issue as well as others.
The Lite 2 is a little smoother and bouncy underfoot, weighs half an ounce less, and has a broader foundation for added stability.
Furthermore, the midsole and the bulk of the top are made from more environmentally friendly materials. "I was pleasantly pleased to fall in love with this sneaker," stated one of the testers. "I had previously used Asics road and trail shoes with only lukewarm responses at best, but the Nimbus Lite was absolutely a game-changer for my view of Asics."
The plush top padding and deep cushioning were my absolute favorite aspects, so much so that I found myself looking forward to getting up at 5 a.m. for my 6- to 7-mile runs."
They also have a women category in Asics Gel-Nimbus Lite 2 which is great for all the women who love long distance running.
No#2. Hoka Mach 4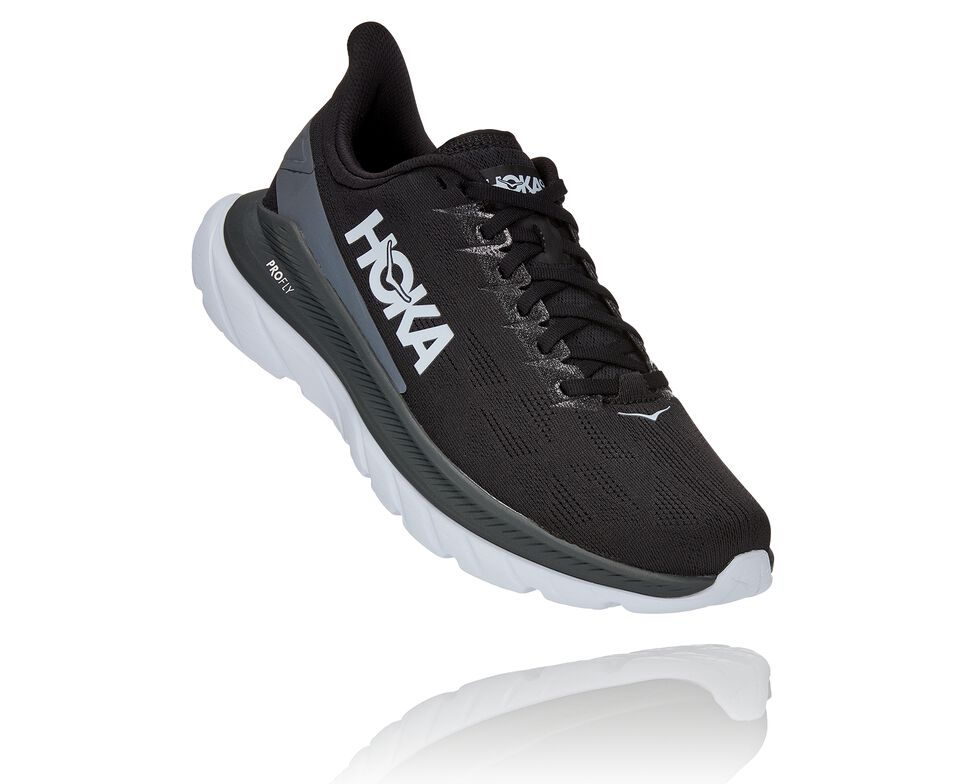 Price: $137.45 – $229.99
Runner-in-chief Jeff Dengate said in his notes after testing his pair that the 4 is "the greatest Mach yet, and maybe the best current Hoka." Take his word for it, and if that doesn't convince you, consider what our other testers said: One stated the Mach 4 was unrivaled, another said it was her new favorite road shoe, and yet another—a Hoka virgin, no less—said she was impressed after only one run.
Machs 1–3 were already favorites due to their lightness and rapid rebound. However, Hoka went over and above, fiddling with the midsole composition and using what the company learned when building its competition shoes, the Carbon X and Rocket X.
Its sensitive Profly midsole (a dual-density foam that's softer in the heel and harder in the forefoot) and early-stage Meta-Rocker are responsible for its fresh giddy-up (a slightly curved sole that speeds transitions from heel to toe). This results in a shoe that is well-cushioned yet won't make your run seem like a slog.
Hoka Mach 4 is also available in women category too.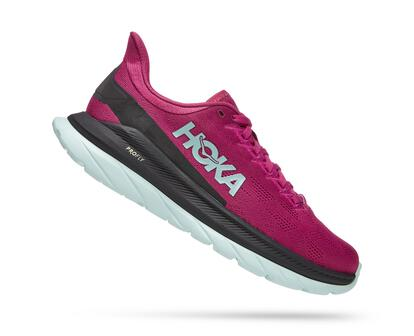 Price: $137.50 – $220.99
No#3. Mizuno Wave Rider 25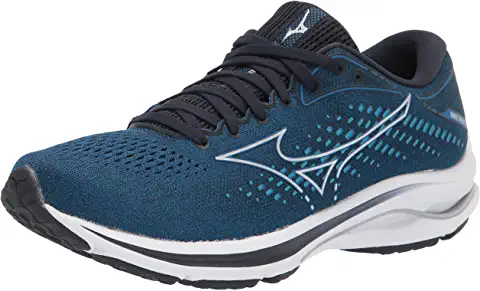 Price: $134.95 – $181.83
Twenty-five is a significant milestone for the Rider, and not only because Mizuno has now produced variants of this shoe for a quarter-century. One long-term tester claimed it's his best yet, while another said it's the softest and most cushioned.
Part of this is due to the brand delivering on the promise made in the Rider 24: a full-length midsole layer of delightfully smooth Enerzy foam.
Mizuno previously combined and matched a variety of foams above and below the wave plate in prior Rider midsoles, ranging from its stiffer U4ic to U4icX. Though comfy underfoot, the shoe's ride may seem disconnected with sloppy transitions due to the use of several forms.
The use of strictly Energy foam throughout improves the ride's smoothness and consistency, particularly when combined with the 25's new castor bean-based wave plate. Built with a larger amplitude (the Rider 24's plate was flatter), it returns more energy with each footstrike and better complements the contour of the arch. "Smooth and springy," one tester noted, "this shoe creates a pleasant ride for endurance training and long runs when you'll be spending a lot of time on your feet."
No#4.Nike Air Zoom Pegasus 38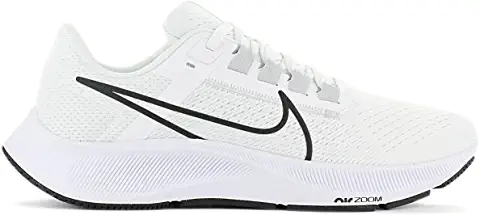 Price: 155.99
The 38th Peg lives up to its reputation as a competent "workhorse with wings." The midsole of the shoe was upgraded from outdated Cushlon foam to more responsive React foam last year, and Nike added two millimeters of it underfoot. React is medium soft and somewhat flexible, although it is not as light and bouncy as ZoomX.
Nike also reduced the pressure in the air unit in the women's model (15 PSI vs. 20 PSI for males) to make it softer, increased the size of the forefoot unit for more pop on toe-off, and removed the air unit from the midfoot and heel.
The outsole has also been updated, with additional flex grooves and a rectangular tread pattern that helps traction for brief off-road sessions. Those changes stay on the 38, but the upper receives a slew of bug fixes. The formerly constricted toe box is now more spacious, a deeper heel cup eliminates the slippage we saw in the 37, and the new plush sandwich mesh feels considerably softer.
"The Pegasus 38 has a sturdy, quick ride that doesn't hold you back and can take a beating," one tester stated. "The shoe feels softer and springier in my perspective than the similar New Balance Fresh Foam 880, Asics Gel-Cumulus, or Brooks Ghost."
No#5. New Balance Fresh Foam 880 v11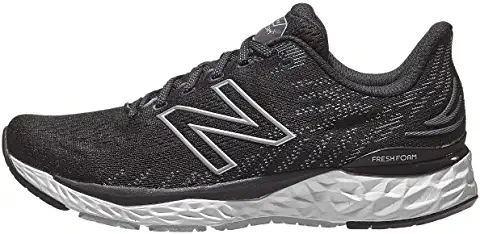 Price: $128.95 – $257.97
Emma Coburn, a professional steeplechaser, recently told us that the Fresh Foam 880 is her all-time favorite running shoe for everyday kilometers, and it's simple to understand why. The 880 is everything you want in a workhorse trainer: it's durable, comfy, and provides a secure fit. With the v10, New Balance gave the sneaker a significant makeover.
The revised midsole is more lively, providing a softer landing experience and greater bounce when rolling from heel to toe. However, it tightens up quickly when pushed off the ground, delivering the same sharp toe-off as prior iterations. (This is due to the application of Fresh Foam.)
NB uses pressure-mapping data to adjust the compound to different zones of softness and support.) "I believe it's the most complete running shoe I've ever worn," said one veteran tester who regularly leads 1:45 half-marathon pace groups.
"They felt amazing as soon as I put them on!" I enjoy lightweight shoes, but I know I can't run a lot of miles in them or go on long runs without getting hurt. Heavy shoes merely make you feel clumsy. This shoe is the ideal combination of comfort, fit, weight, bounce, and style." All of these features are still there in the eleventh edition. The most noticeable change is a new jacquard mesh top, which improves ventilation while helping to reduce weight.
No#6. Brooks Adrenaline GTS 21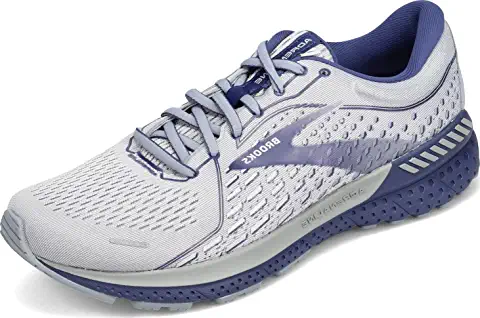 Price: $129.95
The Brooks Adrenaline GTS, now in its 21st generation, is ideal for runners who overpronate (roll their feet inward excessively) and suffer from foot issues such as flat feet.
The incorrect shoe may cause agony, and the Brooks Adrenaline GTS 21 accomplishes its job so well that it can do anything but that. It's supportive in all the right areas without sacrificing comfort.
It's comfortable and fits the foot wonderfully without being constricting, which we really like.
The midsole is where the magic occurs since it houses the Guide Rails (sidewalls that keep the foot centered). It is neither invasive nor unpleasant; it is only engaged when the foot moves too far to the sides.
As a result, it's also appropriate for neutral runners who only need a bit of additional assistance.
And, according to Brooks tradition, the Adrenaline GTS 21 is a workhorse! The shoe still seems undisturbed after many wear tests, and the midsole is not packed out. We expect it to last between 400 and 500 kilometers.
Yes, it's hefty (10.2 oz), but we're not complaining. It's a reasonable weight with such characteristics. And, hey, Brooks is on the right track. Previous generations of the Adrenaline GTS were much heavier.
The Brooks Adrenaline GTS 21 is a no-brainer if you want a basic shoe that has all the makings of a heavy-duty stability trainer that can endure hundreds of kilometers.
No#7. Floatride Energy 3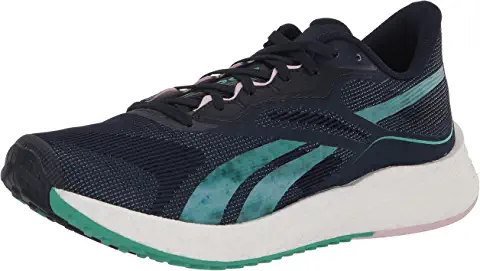 Price: $51.00 – $164.99
Check out this all-around performance shoe if you're searching for one of the finest cushioning-to-dollar ratios. Because of the foam created from steam-molded thermoplastic elastomer (TPE) beads, the midsole is lightweight while yet providing ample protection and bounce. It doesn't have the same racy feel as the more expensive Pebax utilized by the Run Fast 3 (the Energy 3's faster relative), but it's more comfortable and durable. Reebok modified the top for a more locked-in fit and added a more comfy heel collar for this upgrade.
A lot of flexible rubber underfoot also enhances longevity without sacrificing ride quality or making the outsole feel bottom-heavy. Reebok's more sustainable twist on its Energy model, the Floatride Energy Grow, has recently piqued our interest.
The top is composed of eucalyptus bark knit, the outsole is made of natural rubber with no petroleum-based additives, and the PEBA beads in the midsole foam are made of castor-bean oil. The ride is as smooth as, if not slightly harder than, the normal Energy, and the outsole retains all of its grips. However, the eucalyptus-based top does not retain its form as well, and all of the eco-friendly enhancements add an extra $20 to the price.
No#8. Asics Gel Kayano 28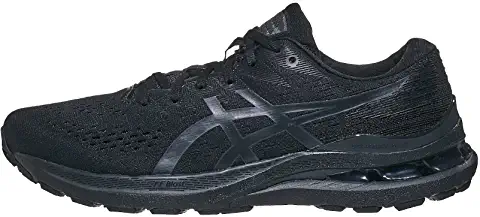 Price: $119.00 – $298.68
Kayano, we meet again! You can't possibly keep it low-key, can you? list of the best running shoes, the Kayano is back to creating a name for itself in the long-distance category.
The Kayano has earned a sweet niche among runners' arsenals, especially athletes in need of additional stability and comfort.
And, in order to determine if it is still worthy of inclusion in our rotation, we couldn't help but put it to the test. And after 50 miles, the Kayano is everything we're looking for in a long-distance stability trainer.
It's not your normal stability shoe; it's soft and bouncy rather than brick-like. Definitely, a benefit if you plan on logging a lot of miles on the road. But it's not so soft that your feet sink into the shoe. It provides the ideal balance of support and comfort.
And, after some hard testing, we're pleased to report that the Kayano 28 handled all we threw at it. Even after tens of thousands of kilometers, it still looks brand new!
It also flexes, whereas previous Kayanos did not. It does so with ease, adding to the shoe's overall bouncy ride.
And the running shoe gods have finally listened to our plea. The Kayano is now half an ounce lighter (10.6 oz) than its predecessor. It's reasonable to conclude that Asics is on the correct track, and the Kayano is undoubtedly building itself up (or down, as the case may be) to compete with lighter stability versions.
No#9. Asics Gel Cumulus 23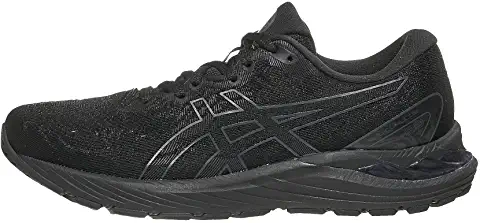 Price: $104.00 – $273.48
Ladies and gentlemen, the Asics Gel Cumulus 23 is available for purchase on any given day and for each given run. It's a multi-talented jack-of-all-trades.
We can't suggest the Cumulus 23 highly enough if you just want one shoe for your everyday runs, jogs, gym session walks.
It's a straightforward sneaker (quite surprising for a shoe that does everything). It lacks the bells and whistles of its more sophisticated predecessors, yet it has everything it needs to compete with them!
Its pillow-like softness is what distinguishes it as an excellent long-distance trainer! Each stride, the Gel absorbs all of the impact force, leaving the foot well-cushioned and protected.
It's well-padded everywhere. Although having a warm feeling during summer runs is a disadvantage, it is not a deal-breaker for us because of the comfort it brings!
A particular mention should be made of the flex grooves, which are one of the shoe's few unsung heroes. The shoe is bendy and twisting as a result of them, enabling easy toe-offs. But if you're expecting buttery smooth as a rockered shoe, we'd advise you to keep your expectations in check.
And what is an Asics shoe if it isn't built to last? Is it even Asics anymore? And, as the name suggests, the Asics Gel Cumulus 23 is meant to endure! We reached 700 miles for its life expectancy after multiple wear testing sessions.
Overall, the Asics Gel Cumulus 23 is a shoe that is competent in all areas but shines in none. And that's not a terrible thing! If you just want one shoe to run them all, this is an excellent buy.
No#10. Skechers GOrun Razor TRL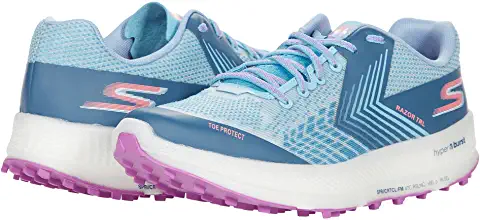 Price: $99.95 – $254.57
Long-time RW shoe review readers are aware that we adore the Skechers GOrun Razor 3. That road shoe is light, quick, and enjoyable. And it has stayed fully untouched for over three years because it is just that excellent.
Skechers, on the other hand, has updated the model, offering a carbon-plated version for road races as well as an off-road variation with a sticky, go-fast sole. The midsole is the same as in the road shoe, made of the brand's Hyper Burst foam.
The foam begins as a solid block of EVA plastic that has been subjected to liquified CO2. There's a lot of science behind how this occurs, but it results in drastically varied shapes for the foam's interior cells, making the Hyper Burst lighter while remaining responsive and cushioned.
It also gives the foam a surprising amount of protection while dancing over pebbles and roots. Because this is a race-ready trail shoe, it lacks a rock plate; if you're going to pound over truly nasty terrain, you'll need a beefier model. But, with the exception of heavy mud, the Goodyear sole—with roughly 100 triangular lugs—kept us solidly grounded.
The upper has also been reinforced to help withstand the challenges seen on trails. While snagged on a limb, the mono-mesh will not tear, nor will it get damp when crossing a stream. This is paired with carefully placed polyester threads to make it feel softer on your foot in high pressure zones.
No#11. Saucony Triumph 18 Road Running Shoe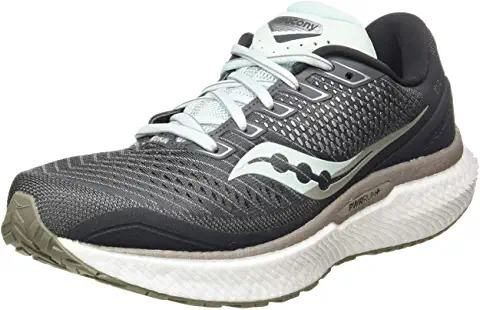 Price: $64.99 – $209.98
The Triumph 18 is one of the best brands of running shoes available on the market. A new PowerRun+ midsole has made the shoe lighter on the foot while also increasing its durability.
Because of the padding in this shoe, your feet will be more comfortable. But don't worry, these sneakers are still quite sensitive. The combination of new FORMFIT technology and enhanced mesh results in a shoe that flawlessly cradles your foot.
No#12.Nike React Infinity Run Flyknit 2 Road Running Shoe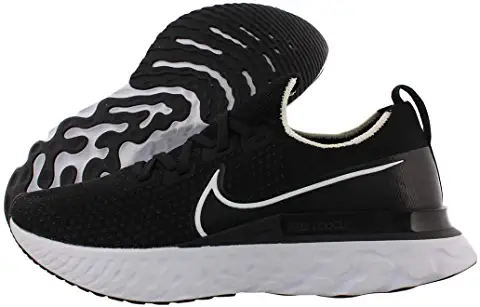 Price: $71.30 – $355.00
The Nike React Infinity Run Flyknit 2s are pricey, but Nike developed a decent sneaker while lowering the chance of injury. This shoe has a good amount of cushioning and feels wonderful when running. While the outsole is a little thin, it will hold up with time. It also provides excellent traction if you want to run in the rain or on rough terrain.
Waterproofing or breathability?
Unfortunately, a decent compromise is hard to come by. You must select which one is more important based on the circumstances of your future race.
Always choose a well-ventilated shoe for dry and warm weather. We took care to look into which long-distance sneakers are breathable when running.
Consider shoes with a Gore-Tex membrane for comprehensive protection in damp, rainy, and muddy environments. Or go for a pair of shoes that are a little more breathable and with water-repellent uppers.
How to Choose the Best Long-Distance Running Shoes
Consider the following aspects while selecting the finest marathon running shoes for you: comfort, quality, and function. Furthermore, knowing your running technique, the running terrain, and how your feet react to hours of pounding the pavement can aid you in your search for long distance running shoes.
Here are some recommendations to help you narrow down your search.
What Sets Long Distance Running Shoes Apart?
Long distance running shoes must be durable enough to withstand a beating, light enough not to weigh you down, and stable enough to allow for maximal push-off and energy return. When shopping for marathon shoes, there are several variables to consider. Here are some tips to help you get started.
Increased Comfort to Prevent Blisters and Reduce Foot Load
Above all, while looking for long distance running shoes, comfort should be your first priority. The greater the distance, whether it's a half marathon or a full marathon, the more your feet will swell and sweat. A well-fitting, lightweight shoe with a breathable top fabric will assist regulate sweat and keep your feet dry. Avoid wearing shoes that are too small in the toe box.
Improved Durability to Handle Frequent Long Distance Runs
When shopping for marathon shoes, three factors to consider are distance, body weight, and foot type. Long-distance running requires a shoe with a high-quality outer rubber sole and a lightweight, cushioned midsole for more comfort and bounce. Look for a shoe with gel cushioning in the heel and forefoot to assist lessen landing impact. Purchase a shoe that is suitable for your weight and foot type in order to handle the long hours of jogging.
When to change your running shoes is determined by how many kilometers you have put on them, your running circumstances, and your training method.
Stability is enhanced with a secure fit and support.
Finding a running shoe that accommodates your pronation type can provide you with additional support and stability where you need it the most. Overpronators and under pronators may minimise the pressure on their feet by selecting a shoe that is appropriate for their foot type. Overall, the finest marathon running shoes provide rapid step-in comfort, enough space for foot stretch, and additional support in the heel for a smooth ride.
Check out our Pronation Guide to determine your pronation type.
What Should You Think About Before Purchasing Marathon Shoes?
In addition to body mechanics, the terrain and length of your run will have a significant impact on the kind of marathon shoes you choose. Are you doing a half or full marathon, a slow-paced run or a race, on the road or on the trails? Let's take a closer look at them below.
1. The average number of kilometers you want to run long distance.
Marathon running shoes are made to survive lengthy periods of training. However, the more kilometers you put on a shoe, the more wear and tear it suffers. When asked how many kilometres your marathon shoes should have before being replaced, Podiatrist and ASICS PRO Team member Clifton Bradeley said 450 to 550 miles. Keeping track of your mileage and changing them as necessary can guarantee that you get the most out of your running shoes.
2. The Terrain You Will Be Running On
The terrain is vital to your shoe style since it must fit the specific demands of your running surface. You'll need one pair of long-distance running shoes that can handle repeated hammering on the street and another that is sturdy enough to keep you safe on the trails.
Trail running over a long distance. A responsive shoe with increased traction and stability is required for tough terrain. A running shoe with a high energy return adapts well to softer ground, allowing runners to cover more territory with less effort.
Road running over a long distance. The more difficult the terrain, the more abuse your shoes will sustain. Look for a shoe with appropriate sole durability without losing comfort and flexibility.
3. Do You Need More Than One Pair?
It's a good idea to switch between two pairs of long distance running shoes while training to get the most mileage out of them. This will allow your shoes to dry and relax between runs. Consider purchasing two pairs of the same running shoes after you've found the right fit for your foot type and running style. Running shoe models might vary from season to season, so don't pass on the appropriate pair.
4. The Characteristics Of Your Long Distance Run
Look for a lightweight shoe with an energy-efficient design and a bouncy toe-off for runners who wish to speed up their runs. Durable shoes with increased midsole cushioning and breathable top textiles can enhance the quality of your slower marathon runs.